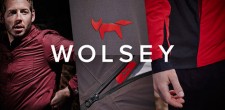 Manhattan's Leading Golf Retailer Showcases British Heritage Brand for Autumn/Winter 2014
(LEICESTER, England) – British heritage brand Wolsey – one of the world's oldest existing clothing brands and a pioneer of premium men's apparel for sporting endeavors – has premiered its AW14 Sportsman collection at New York Golf Center, Manhattan's golf retail authority.
Showcased at New York Golf Center's flagship location in Herald Square, as well as its two other shops in the heart of Manhattan, the recently re-launched Sportsman collection features performance merino polos, base layers, knitwear and pants, as well as breathable, waterproof and multi-layer outerwear.
"These garments are perfectly suited to my sophisticated customers who embrace new, leading-edge looks with a classic twist," says Pam Graniero, a buyer, consultant and merchandiser for New York Golf Center. "The rich fabrics and fine tailoring ensure the Wolsey line will be something they'll enjoy equally on and off the course."
Boasting several garments made in the United Kingdom, Wolsey Sportsman combines traditional British menswear colors with minimal and strong textual patterns to create a "less-is-more" aesthetic. The line offers a silhouette that is more middle ground than slim, with many pieces relying on Invista THERMOCOOL technology that dual regulates body temperature to ensure the sportswear is "fit for purpose."
"In one of the world's most fashionable cities, New York Golf Center has long been the go-to destination for golfers seeking the latest clothing and gear," says Wayne Webster, Wolsey's Golf Sales Director. "Wolsey aligns perfectly with the curated portfolio of brands selected by Pam and her colleagues."
Filmed this summer, the Wolsey "Pioneers" video (http://youtu.be/JAab95avxY4) highlights the company's team of inspiring brand ambassadors – legendary designer Johan Lindeberg, Tour players Robert Rock, Tom Lewis and James Heath, and polar explorer Alex Hibbert. Each champions Wolsey's spirit of adventure that stretches back to the company's founding in 1755.
The modern team of pioneers, which also includes rising Tour star Michael Weaver, continues a Wolsey tradition that traces directly back to historic adventurers like Sir Ernest Shackleton and Captain Robert Falcon Scott, as well as golfing greats Peter Allis and Tony Jacklin.
For more information: www.Wolsey.com.
About New York Golf Center
New York City's Premier golf retail authority, New York Golf Center is an eight time winner of GolfWorld's Top 100 award and the only Golf Digest Top 100 fitting center in Manhattan. With two convenient locations and a third pro shop at Chelsea Piers, New York Golf Center is a worldwide destination for avid golfers from all corners of the globe. It offers a combination of goods and services not available under one roof anywhere on the planet in a location that is a world hub. The company philosophy drives its will to offer the most complete golf shopping anywhere. Its NYGC powered by Cool Clubs fitting studios feature the most comprehensive fitting and build services available. From the new player looking to get a value priced set to start with or the most demanding player looking for the best clubs money can buy, it can fill the needs of each individual golfer to ensure their best golfing experience.
More information: www.nygolfcenter.com
About Wolsey
Founded in 1755 in Leicester, England, Wolsey is one of the world's oldest existing clothing companies. Its rich and storied heritage includes unrivalled success producing premium men's apparel for a wide range of sporting endeavors.
During the 19th century, Wolsey quickly established itself as Britain's premium manufacturer of finest quality hosiery and a champion of knitwear innovation, opening one of the first steam powered factories in 1859.
Wolsey's global reputation as an outfitter for pioneering men was sealed in 1911 when its breathable thermal underwear was selected and publicly endorsed by Captain Robert Falcon Scott for his historic race to the South Pole. Eight years later Wolsey also supplied undergarments for Sir Ernest Shackleton and his team's expedition to Murmansk. For the British and Allied troops, Wolsey produced more than 18 million pieces of knitwear during World War I.
In the 1920s – an era of flamboyance – outdoor activities such as golf, tennis and swimming were extremely popular and Wolsey became a leading maker of garments for these pursuits. Notably, the company devoted a special production line for the manufacture of golf apparel, which was successfully marketed under the "Sportsman" name using a "Fox" motif as the brand logo.
From mid-century through the 1970s, Wolsey was particularly recognized for its golf range. Endorsers included renowned champions Tony Jacklin, Peter Allis, David Feherty, Fuzzy Zoeller and Roger Davis. Wolsey collections were also selected by numerous sporting organizations and teams, including Aston Villa, the FA CUP Final, the West Indies, England and New Zealand.
With its historic track record, in 1935 Wolsey was appointed a Royal Warrant as Hosiery Manufacturers to his Majesty King George V, an honor still held with today's monarchy.