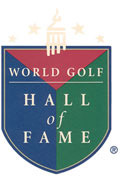 New location is part of expanded schedule including Pebble Beach
St. Augustine, Fla. (Sept. 22, 2014) – The World Golf Hall of Fame & Museum will stage the 2015 Induction Ceremony at the home of golf in St Andrews, Scotland, in conjunction with The Open Championship. The Ceremony will be held on Monday, July 13 at the University of St Andrews, just blocks from the Old Course, host site of that week's 144th Open.
The move is part of an expanded biennial schedule for the Induction Ceremony and highlights the Hall of Fame's ongoing strategic efforts to elevate its awareness and prestige around the world. That schedule includes returning to World Golf Village for the 2017 event, which will be held the Monday of THE PLAYERS Championship week. In 2019, the Induction Ceremony will move to Pebble Beach, Calif., and be staged on Monday of U.S. Open Championship week.
"This expanded schedule is an important step for the World Golf Hall of Fame as it continues to grow and cultivate audiences in the U.S. and abroad," said Tim Finchem, PGA TOUR Commissioner and chairman of the World Golf Foundation Board of Directors. "The Board of Directors believes this is an excellent opportunity to raise the profile of the Induction Ceremony."
The 2015 Ceremony will be held at the University of St Andrews, which has a history of recognizing golf's greatest players. The University has conferred honorary Doctor of Law degrees to several Hall of Fame members – including Jack Nicklaus, Arnold Palmer and Gary Player – in recognition of their outstanding achievements and contributions to the sport of golf.
"I am absolutely delighted that the first Induction Ceremony to be staged internationally is coming to St Andrews," said Peter Dawson, Chief Executive of The R&A. "The Class of 2015 will have a truly special experience in being recognized in the place where golf began. There will be many thousands of visitors to St Andrews during the Open Championship and the Induction Ceremony will start the week with real fanfare."
The Class of 2015 will be introduced later this year.
"This is an exciting opportunity to continue to increase the world-wide visibility of the Hall of Fame and Induction Ceremony," said Jack Peter, Chief Operating Officer of the World Golf Hall of Fame. "St Andrews is an ideal location, considering its rich history with Hall of Fame members. I would like to thank our sponsors Shell Oil Company and Rolex, along with the Board of Directors, and The R&A and USGA in particular, for helping us bring the Class of 2015 and Class of 2019 Induction Ceremonies to two of golf's most iconic locations."
For more information on the Induction Ceremony and the Hall of Fame, visit WorldGolfHallofFame.org.