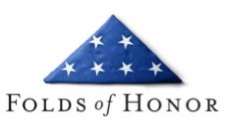 FIFTH ANNUAL PATRIOT CUP GOLF TOURNAMENT ADDS MEANING TO MEMORIAL DAY
Leading golfers and celebrities return to support military families
OWASSO, Okla. – The fifth annual Patriot Cup returns to The Patriot Golf Club on Memorial Day on May 26 bringing together PGA TOUR stars, celebrities, and military members for a heroic round of golf with proceeds benefiting Folds of Honor Foundation. Tickets are $20 for adults and free for children 16 and under, as well as active and non-active military personnel with military ID, and are available at Tulsa-area QuikTrip locations beginning May 1. Tickets can also be purchased on the day of the event at Stone Canyon Elementary School.
The Patriot Cup pairs TOUR players and celebrities with an active or non-active military golfer and Folds of Honor partner. The three-player match play event is sponsored by Budweiser and pits the Air Force against the other three Armed Forces divisions (Army, Marines and Navy). The competition will be filmed by NBC Sports/Golf Channel to air during the week of Veteran's Day in November on Golf Channel.
The Patriot Cup benefits the Owasso-based Folds of Honor, an organization founded by Major Dan Rooney that provides educational scholarships and other assistance to the spouses and dependents of military members killed or disabled while serving our great nation.
"The Patriot Cup serves as a reminder that freedom is not free: because of the sacrifices made by our service men and women, we can enjoy liberties like the game of golf," said Rooney, a former F-16 fighter pilot and PGA Professional. "Bringing golf stars like Rickie Fowler, Bo Van Pelt and others to Owasso gives our local community the opportunity to spend Memorial Day watching a star-studded round of golf while celebrating and supporting those who serve our country."
Year after year, the event continues to draw many of the top names in golf. Some of those committed for 2014 along with Fowler and Van Pelt are Corey Pavin and Gary Woodland, as well as celebrity participants such as former Major League Baseball star Mickey Tettleton, NFL quarterback Brandon Weeden and Golf Channel personality Michael Breed. Additionally, this year's tournament adds a father-son component with Bob and Kevin Tway and Jay and Bill Haas.
To date, Folds of Honor has awarded nearly 5,500 scholarships to the families of fallen or wounded military. As of January 2014, there are more than 1.4 million dependents of fallen and wounded military service men and women from the Iraq and Afghanistan conflicts alone and 85 percent do not qualify for federal scholarship assistance.
Since first partnering with the Folds of Honor Foundation in 2010, Budweiser and its wholesalers have raised nearly $10 million for military families. This year, specially marked packages of Budweiser will contain a code that can be entered online to trigger a $1 donation to Folds of Honor (up to $1 million). Collectively, Anheuser-Busch, along with its wholesaler family and beer drinkers across America will raise more than $3 million this year to provide 600 educational scholarships to families of fallen or injured military service men and women.
In addition to Budweiser, other sponsors and supporters of The Patriot Cup include Golf Channel, NBC Sports, Titleist, Bushnell, POLO Golf, Rolex, AHEAD Inc., Hard Rock Hotel & Casino, Don Thorton Automotive, Rocky Boots, Vokey, Bolle, Stitch Golf, FOX & Friends, Golfweek, Homewood Suites by Hilton and Brothers & Company.
Free spectator parking is located at Stone Canyon Elementary School with shuttles providing transportation to and from the course. Food and beverage vendors will be located at the course.
The Patriot Golf Club (www.patriotgolfclub.com) is a Robert Trent Jones Jr.-designed course that opened in 2010. Each hole of this unique course carries the name of a great patriot, including George Washington, Martin Luther King Jr., and the Wright Brothers, to name a few.
This site is also the location of the Folds of Honor Foundation headquarters. Each day at 1300 (1 p.m.), the Foundation bell rings 13 times, signifying the 13 folds that form the triangle shape of the flag. At this time, everyone on the property pauses to remember that freedom is not free.