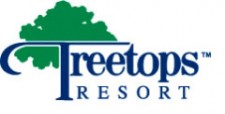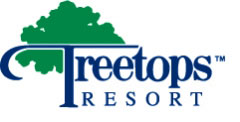 Gaylord, Mich. – Nationally acclaimed Treetops Resort in Northern Michigan is transitioning fun for everybody from its 23 ski runs to its five fabulous award-winning golf courses with a variety of growing the game initiatives and programs to attract new players and more participation.
To help golfers prepare for the 81 holes of championship golf at Treetops and not feel intimidated, the resort will feature the PGA of America's Get Golf Ready national campaign that promises a day on the course is a "perfect day" for all who play the game.
The Get Golf Ready program is designed to invite and welcome lapsed and non-golfers to play. Treetops, as a participating facility, will starting in mid-May offer a series of five clinic-style lessons for a men's group and a ladies group. The lessons will cover much more than simply putting, chipping and full swing, but also how to become a GOLFER. Upon completion of the lessons, the ladies will earn a spot in the popular ladies league (league fee valued at $50) at Treetops. The men will earn playing privileges in scramble events in which they participate for free. Each golfer pays just $99 or just $49 if they are active or retired military. Additionally, Treetops will offer a great deal on a new set of clubs (10 percent over cost) for anyone signed up for the program. Alex Hughes, a PGA Professional apprentice, will be the primary instructor. Check out the PGA of America videos: http://www.pgamediacenter.com/videos/2014_Perfect_Day_PSA.cfm?vid=1&cid=3517 http://www.pgamediacenter.com/videos/2014_Perfect_Day_PSA.cfm?vid=2
Among the other grow the game programs being featured at Treetops are:
PGA Junior League: This thrilling and engaging program uses a team approach to having fun and learning about the game. It's like Little League, but for golfers. Last year 40 juniors participated, and 60 is the limit set for this year. The cost is $119, but juniors who played last year and get another player to sign up this year will receive a discounted rate of $99. Check out the PGA of America video and get fired up for your junior golfers: http://www.pgajrleaguegolf.com/galleries/video/
Drive, Chip and Putt: Here's a chance for junior golfers to appear on the Golf Channel while participating in the national finals at Augusta National Golf Club, the home of the Masters Tournament. In fact, the finals played out on television this past Sunday kicking off Masters Week. Treetops will host a local Drive, Chip and Putt event on July 15 at the Jones Masterpiece Driving Range. It is the first step in qualifying for a chance to attend the nationals at Augusta in April of 2015. Registration is first-come, first-served and only 25 will be allowed to sign up in each age group. Find more information at: http://www.drivechipandputt.com/
SNAG Golf: Treetops has purchased a SNAG set of unique equipment, including targets, specially designed clubs and balls to enhance junior golf programs as well as teach skill lessons in all seasons to younger players. Imagine using a non-intimidating sized club and a tennis ball to hit at fun targets like a person in a special suit. In the fall local schools will be asked to add it to their physical education curriculum and Treetops will assisting in teaching the teachers how to teach golf. See this video for the fun we are already having at Treetops with SNAG: http://www.youtube.com/watch?v=-j9NRDD26FI
Tee it Forward: Treetops will place new gold tee markers on the Fazio Premier and Jones Masterpiece golf courses allowing for another set of tees to be placed between the white and red markers. Three Treetops courses will now be equipped with five sets of tee options and one will be equipped with four. Treetops courses with five sets will have four sets of tees (Black, Blue, White and Gold) handicap rated for men and three (Red, Gold and White) rated for women. The extra set is designed to encourage golfers to potentially move up a set of tees and enjoy the game more. Treetops will never prohibit a golfer from playing the set of tees he/she wants of course, but golfers will be encouraged and presented with reasons why they might enjoy the tee it forward option.
Women's Golf Festival: This Aug. 3-7 festival will help women of all abilities learn more about specific areas of the game while they enjoy a week of discounted rooms and play on the Treetops golf courses. The festival, including special guest speakers, will encourage never-ever golfers to become occasional golfers, occasional golfers to become avid golfers and avid golfers to enjoy the game and play even more. Here's the scoop: http://treetops.com/courses/golf/golf-events/womens-golf-festival-2013/
About Treetops Resort: Treetops, located on the 45th Parallel in the alpine village of Gaylord, Mich., is a four-season resort destination spread over 3,000 acres. The famed par 3 No. 6 hole on the Masterpiece course has a 40-mile view of tree tops, and was the inspiration for the resort's name. In addition to five golf courses and 23 ski runs, the resort features 238 hotel rooms and condominiums, a nationally-ranked golf school, a variety of dining options, the Wellness Spa and over 10,000 square feet of meeting space.
To reserve your Treetops getaway, visit www.treetops.com, or call 1-888-873-3867.