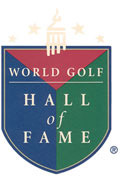 Industry leader becomes Official Equipment Supplier of the Hall of Fame
St. Augustine, Fla. (Feb. 18, 2014) – The World Golf Hall of Fame & Museum is proud to announce it has entered into a multi-year strategic partnership with PING. Starting in 2014, PING will become an Official Partner and Official Equipment Supplier of the Hall of Fame.
The Hall of Fame and the Arizona-based company are ideal partners, as PING founder Karsten Solheim was inducted in 2001. Selected through the Lifetime Achievement Category, Solheim is known as an innovator who revolutionized golf club design and manufacturing by examining the mechanics and technology of the sport.
"We're honored to partner with the World Golf Hall of Fame by bringing its guests the opportunity to experience PING golf equipment during their visits," said John A. Solheim, PING Chairman & CEO and youngest son of Karsten and Louise Solheim. "Karsten is the only golf club engineer and manufacturer in the World Golf Hall of Fame. It's only appropriate we continue his legacy by sharing the latest innovations from the company he founded with all of the golfers who visit the Hall of Fame."
Visitors to the Hall of Fame will be able to use the latest in PING equipment throughout the St. Augustine, Fla., facility, including its Golf Simulator, the 18-hole, natural-grass putting course and its 132-yard Challenge Hole.
"This is an excellent match of two entities that share a world-class vision," said Jack Peter, COO of the World Golf Hall of Fame. "We are thrilled to partner with one of golf's most respected equipment companies."
Since Karsten Solheim's enshrinement, the Hall of Fame and PING have enjoyed a strong relationship. In 2007, the Hall of Fame worked with PING, the LPGA and the Ladies European Tour to open a temporary exhibition called "Pride, Passion, Patriotism: A Celebration of The Solheim Cup." The exhibit featured one of the three original Solheim Cup trophies, along with memorabilia, video and photos from the event.
Most recently, PING provided an exact crystal replica of the Solheim Cup trophy for the Hall of Fame's Team Gallery. Opened in May 2013, the Team Gallery is an exhibition created to highlight three of golf's biggest team competitions – The Presidents Cup, The Ryder Cup and The Solheim Cup. The Solheim Cup trophy is one of the highlights of an interactive exhibition that uses memorabilia and photos to showcase the achievements of the players in one of the biggest competitions in women's golf.
For information about the World Golf Hall of Fame & Museum, visit www.WorldGolfHallofFame.org.