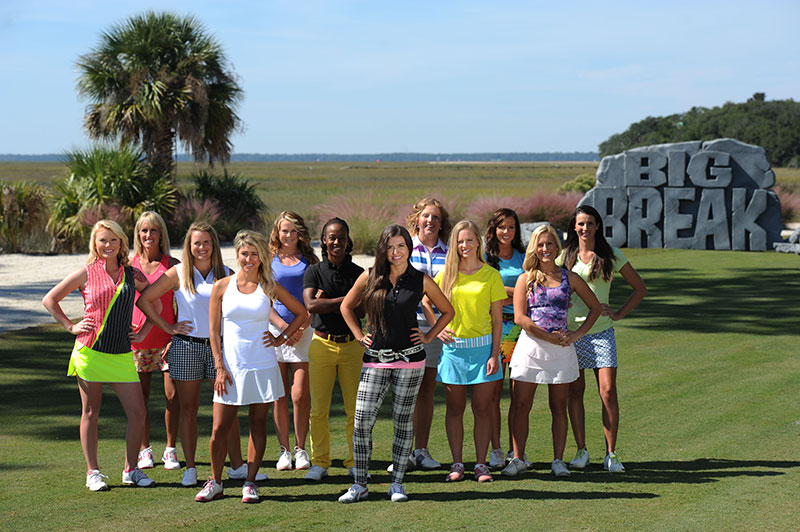 ORLANDO, Fla. (Jan. 28, 2014) – Golf Channel's popular Big Break reality competition series returns Monday, Feb. 24 featuring an all-female cast hoping to take the next step in their professional golf careers by competing for more than $175,000 in cash and prizes – the largest collection of prizes in series history – and an opportunity to play on the LPGA Tour.
Big Break Florida, produced in partnership with VISIT FLORIDA and produced on location at Omni Amelia Island Plantation, features a cast of 12 women who are at different stages in their professional golf careers. Several are currently competing on the Symetra Tour (LPGA developmental tour), while others are attempting to revive their professional golf careers. Two competitors turned professional solely to qualify for Big Break Florida, including the youngest contestant (18) in the series' 21 season-history. All 12 will compete against each other in hopes of making their lifelong dream of walking the fairways on the LPGA Tour a reality.
The contestants are:
Lindsay Aho (26, Scottsdale, Ariz. / Brush Prairie, Wash.) – Entering her second year on the Cactus Tour, Aho turned professional in 2013 after an outstanding career at Concordia, where she was a two-time All-American with 13 collegiate victories. She won her first professional event in 2013, the Pepsi Northwest Women's Open.
Courtney Coleman (28, Rochester, Wash.) – An underdog when it comes to professional golf experience, Coleman turned pro in 2012 and recently has returned to competitive golf after overcoming a thyroid condition. She will play the mini-tour circuit in 2014.
Kylee Duede (22, Glendale, Ariz.) – Diagnosed with rheumatoid arthritis as a baby, Duede is on a diminishing timetable for her golf career, knowing she will need to get a full knee replacement in the next few years. Duede competed on the Cactus Tour as an amateur in 2013 and turned professional to compete on Big Break Florida.
Fiamma Felitch (24, Oklahoma City, Okla.) –A decorated junior golfer from Oklahoma – the 2007 high school state champion and player of the year – Felitch will compete on the Cactus and Symetra Tours in 2014 with a renewed sense of energy and passion to achieve her dream of competing on the LPGA Tour.
Tonya McCall (28, Las Vegas, Nev.) – A proud mother of two, McCall is giving professional golf another go. A graduate of UNLV who had status on the Ladies European Tour in 2010 prior to putting her golf aspirations on hold, McCall will compete on the Cactus and Symetra Tours in 2014.
Mary Narzisi (24, Omaha, Neb.) – One of the more outspoken competitors on Big Break Florida, Narzisi has been competing full-time on the Symetra Tour the past two years after initially burning out on competitive golf after graduating from the University of Minnesota. She will compete on the Symetra Tour in 2014.
Kristi O'Brien (23, Fishers, Ind.) – O'Brien's life changed forever when she was involved in a severe car accident in 2009. Miraculously, she walked away from the accident, and saw it as a sign that her golf clubs in the trunk also were unscratched. Given a second chance in life, golf helped O'Brien recover from the emotional and physical injuries. She went on to become the 2011 Indiana Player of the Year and turned professional upon college graduation. She is competing on the Symetra and Cactus Tours in 2014.
Dallas Odom (19, Anderson, S.C.) – The youngest competitor in Big Break history at age 18 when the series was filmed in 2013, Odom turned professional to compete on Big Break Florida. She has a homemade golf swing and is from a small town in South Carolina, both traits that are similar to past Big Break champion Tommy Gainey. She is a multiple winner in South Carolina Junior Golf Association championships, and is the nine-time defending champion at the Anderson County Championship.
Sadena Parks (23, Scottsdale, Ariz. / Spanaway, Wash.) – The first African-American golfer to compete at the University of Washington, Parks turned professional in 2013 and is competing in her second season on the Symetra Tour. She is one of the longest hitters on the series.
Renee Skidmore (27, Jupiter, Fla. / Everett, Wash.) – One of the veteran golfers on Big Break Florida, Skidmore turned professional in 2009 and has competed on the Suncoast, Cactus and Symetra Tours the past four years. She will be competing full-time on the Symetra Tour in 2014.
Jackie Stoelting (27, Vero Beach, Fla.) – Stoelting made the cut in the final stage of LPGA Q-School this past December, earning conditional status on the LPGA Tour for 2014 as a rookie. That makes her the first Big Break contestant in series history to earn status on any major professional golf tour in between competing on the series and prior to that series airing. Stoelting also is the lone contestant on the series to have competed in a major championship – she qualified and made the cut in the 2013 U.S. Women's Open.
Lauren Sullivan (25, Fort Worth, Texas) – Sullivan's journey is unique among the cast of Big Break Florida. After a successful junior golf career in Texas, she did not play golf in college. Following graduation in 2011 from TCU, her passion for the game returned and she is putting her medical career on hold to pursue her dream of playing on the LPGA Tour.
Serving as co-hosts for Big Break Florida will be Tom Abbott and Melanie Collins. Collins will make her Golf Channel debut as co-host for Big Break. She currently serves as a television host for Yahoo! Sports.
The contestants on Big Break Florida have the opportunity to win more than $175,000 in cash and prizes during the course of the series, the largest collection of prizes in series history. The winner of Big Break Florida will receive more than $100,000 in cash and prizes, including:
An exemption to the 2014 Manulife Financial LPGA Classic (June 5-8, 2014).
$65,000 in cash, including $5,000 courtesy of Dick's Sporting Goods and $10,000 courtesy of Macanudo.
Full, exempt status to the 2015 Symetra Tour season with all entry fees paid.
An endorsement contract from Adams Golf, including $10,000 in cash.
$10,000 in car rental credit courtesy of Avis Car Rental.
$10,000 in travel credit courtesy of Travelocity.
A four-day, three-night stay at any Omni golf resort in the United States.
Filmed on location in October, 2013, the series will unfold at Omni Amelia Island Plantation's three award-winning golf courses – Oak Marsh, Ocean Links and Long Point Golf Courses. Oak Marsh Golf Course, a classic Pete Dye design, is ranked as one of the top 75 resort courses in the U.S. by Golf Digest and as one of "Florida's 50 Finest Courses" by Travel & Leisure. Ocean Links Golf Course, a Bobby Weed design, features five oceanfront holes overlooking the Atlantic Ocean, and winds through six miles of natural sand dunes and seaside terrain that is unique to Amelia Island. Long Point Golf Course is a Tom Fazio design that features rolling fairways winding through three distinctive settings: marshlands, thick oak and pine forest, and scenic oceanfront dunes.
Golf Channel's Big Break show concept pits highly skilled golfers against each other in a variety of challenges that test their physical skills and mental toughness. On Big Break Florida, the competitors will be subject to skills challenges from tee-to-green, including two of the series' signature challenges, the popular "Glass Break" and "Flop Wall" challenges. One contestant will be eliminated each week, with the last player standing awarded her Big Break, an opportunity to compete on the LPGA Tour.
Past Big Break champions have won tournament exemptions to compete on some of the world's top professional circuits, including the PGA TOUR, Champions Tour, European Tour, LPGA Tour, Web.com Tour and Canadian Tour.
Tommy "Two Gloves" Gainey, Big Break VII: Reunion champion and PGA TOUR professional, captured his first PGA TOUR victory in 2012 at The McGladrey Classic and is playing full-time on the PGA TOUR. 2013 Solheim Cup team member Gerina Piller (Big Break Prince Edward Island competitor), 2011 Solheim Cup team member Ryann O'Toole (Big Break Sandals Resorts competitor) and 2009 U.S. Solheim Cup Team member Kristy McPherson (Big Break VI: Trump National competitor) are currently playing full-time on the LPGA Tour. Several other past Big Break competitors are currently competing on the PGA TOUR or LPGA Tour, including Matt Every, Kim Welch and Nicole Smith.