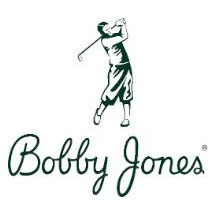 BOBBY JONES ANNOUNCES NEW BLACKBIRD SERIES DRIVER FOR MORE DISTANCE AND ACCURACY OFF THE TEE
New Driver 'Hottest' Ever by Jesse Ortiz
Bordentown, NJ – Bobby Jones, celebrating the iconic brand's 25th anniversary in 2014, unveiled its new Blackbird Series driver. The Blackbird Series, aptly named for its satin black finish that resembles the Air Force's stealth titanium fighter jet of the same name, will be the longest ever in Jesse Ortiz's storied history as a leading innovator in club design – boasting the 'hottest' clubface to ever bear the Ortiz name.
The 2014 Blackbird driver features a 460cc pear-shaped head that centers on a dense-grained titanium cup-face design. The variable thickness cup-face design produces low spin while maintaining higher ball velocity off the clubface. This results in the highest CT rating allowed while keeping spin rates at or below 2500 RPMs, on average. The driver's cup-face is laser welded to the 6-4 cast titanium body to create a sleek, aerodynamic clubhead with a sloped crown to increase clubhead speed. The Blackbird Series driver also offers adjustability through its hosel—allowing for square, one degree closed or two degree closed face angles.
"One of the things Bobby Jones is famous for saying is that 'you swing your best when you have the fewest things to think about.' With our new Blackbird driver golfers have classic beauty with the best of modern technology, in a design that inspires confidence at address. True to Mr. Jones' sage advice, golfers who put the new Blackbird driver in play shouldn't have anything to think about other than making a smooth swing," said Jesse Ortiz, Vice President of Bobby Jones golf equipment.
The Blackbird Series driver, available in 9, 10.5, and 12-degrees of loft, is part of the larger, new for 2014, Blackbird Series by Bobby Jones – featuring a satin black finish with iridescent red crown details that frame the head and offer easier alignment. The standard shaft offerings are Graphite Design's G-Series in stiff, regular and senior flexes. The Blackbird Series driver will be available online at www.bobbyjones.com beginning in February 2014. The street price of the driver is $399.