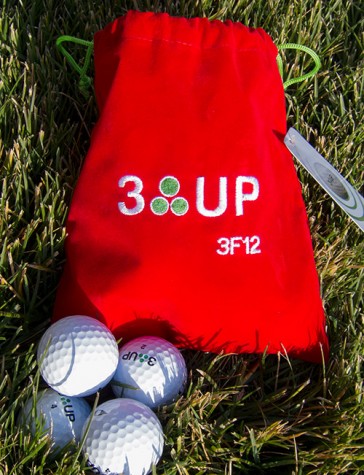 Nashua, New Hampshire (November 1, 2013)
3 UP Golf is announcing a new website, updated packaging, new holiday products, and the introduction of an affiliate program.
3 Up Golf, based in Nashua, New Hampshire, is proud to announce updates to the packaging for their acclaimed golf ball, the 3F12. In tandem with the packaging update a new website is being launched today along with an affiliate program.
At the newly redesigned 3upgolf.com players will find that the unique packaging for the 3F12 has been improved both on the outside and inside. The hallmark black pouches have been updated with a stylish embroidered logo and new green drawstrings. These updates take the 3F12's packaging from unique to remarkable. Inside of the bag, players will find enhanced bonus items worth talking about. In addition to a dozen balls, each bag comes with a metal embossed ball marker, four 3 Up branded Evolution™ tees by Pride Golf, and a marking pen to uniquely identify your ball with (red, green, blue or black).
For a limited time, 3 Up Golf is also offering a special holiday packaging option. An embroidered bag will be available in red to celebrate the holiday season. Players can purchase the holiday packaging at 3upgolf.com for $39.99. Shipping is always a flat $3.12 for US residents, regardless of the order quantity. Rob Zimmerman, president of 3 Up Golf, had this to say about the new packaging:
"I've already spoken with several of our existing players who are excited to buy the special holiday packaging for their family and business clients. The 3F12 is an amazing ball and when presented in equally amazing fashion, it's something your friends, family and clients will truly enjoy receiving this holiday season."
This fall, 3 Up Golf is also excited to announce a new affiliate sales program. By joining the 3 Up Golf affiliate program, partners will be able to receive a percentage of each sale that was originated via their website. Additional purchases made by the referral, up to a certain time limit, will also be credited to the partner's account. This is a great opportunity for partner websites to be able not only to generate revenue but to also be part of a great charity raising vehicle.
For more information about the new packaging or our affiliate program please visit 3upgolf.com. Stay up to date with the latest information about 3 Up Golf via Twitter at http://twitter.com/3upgolf or on Facebook at http://facebook.com/3upgolf.