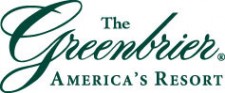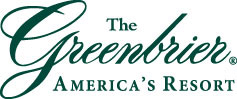 THE GREENBRIER NAMED ONE OF THE WORLD'S TOP GOLF RESORTS BY LINKS MAGAZINE
White Sulphur Springs, WV – September 19, 2013: The Greenbrier, the historic American destination resort in West Virginia's Allegheny Mountains and home to the annual PGA TOUR FedExCup event, The Greenbrier Classic, has been honored as one of the "Top 25 Golf Resorts of the World" by LINKS magazine.
The exclusive list, featuring The Greenbrier, will be published in the Fall 2013 issue of LINKS magazine, as part of its special 25th Anniversary Edition, which singles out significant people, places and moments in golf, past and present. In describing the resorts on this exclusive list, writer Brian McCallen explains: "It takes a serendipitous location coupled with peerless golf, a splendid hotel, excellent dining, and impeccable service to qualify."
"We at The Greenbrier are honored to be recognized by this leading industry publication for our unparalleled golf facilities," says Jeff Kmiec, President of The Greenbrier. "We are tremendously proud of our longstanding golf traditions at the resort, which has seen the likes of Sam Snead, Ben Hogan, Jack Nicklaus, Arnold Palmer and many more legends on its links. We continue that proud tradition today, counting Tom Watson, Kenny Perry, Webb Simpson and Bubba Watson among our Greenbrier golf ambassadors."
To see the complete list of "Top 25 Golf Resorts of the World," go to:
http://www.linksmagazine.com/best_of_golf/links-top-25-golf-resorts-of-the-world
For more about The Greenbrier and its world-class golf facilities, visit: www.greenbrier.com.
ABOUT THE GREENBRIER:
Located in White Sulphur Springs in the Allegheny Mountains of West Virginia, The Greenbrier has been welcoming guests since 1778. Known as "America's Resort," it encompasses more than 10,000 acres of undulating landscape that includes: five golf courses (including the exclusive Greenbrier Sporting Club's private course and the historic Oakhurst Links, located just a 10-minute drive from the resort); a championship indoor and outdoor tennis facility (including five outdoor clay courts and five indoor courts); The Greenbrier Clinic (specializing in executive health); a 40,000-square-foot Five Star mineral spa; a mélange of sporting activities; shops; private homes at The Greenbrier Sporting Club; guests-only casino; and, at its heart, a vast and imposing grand hotel. Purchased in 2009 by West Virginia entrepreneur James C. Justice II, The Greenbrier has undergone a $250+ million restoration and is now home to The Greenbrier Classic, a PGA TOUR FedExCup event, and will soon launch The Greenbrier Medical Institute, a state-of-the-art medical complex on the resort's grounds.
ABOUT LINKS MAGAZINE:
LINKS Magazine was founded in 1988 with the mission of speaking to an audience of devoted golfers who share a passion for the best the game has to offer. It specializes in the most in-depth and reader-relatable information on courses, clubs, and communities throughout the United States, United Kingdom, and golf's emerging destinations around the world.