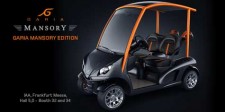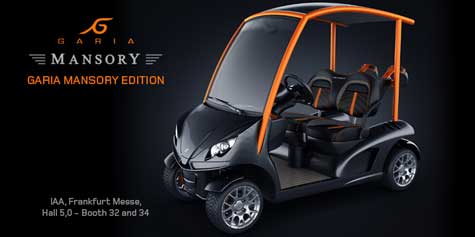 Garia, the manufacturer of the ultimate luxury golf and leisure car is pleased to announce a new exciting partnership with IndyCar Champion Ryan Hunter-Reay.
Ryan Hunter-Reay is the reigning IndyCar Champion and the most successful American currently competing in the IZOD IndyCar Series with more than three times as many wins as all the other current American drivers combined. Ryan is the recipient of the 2013 ESPY for best driver. Ryan is also the only driver to have earned wins in IndyCar, CART, ChampCar, ALMS and GrandAm.
With Garia's unique combination of craftsmanship, passion and performance the Ambassadorship is a perfect match. Ryan Hunter-Reay is dedicated to his sport and has a unique winning mentality. He is an expert in car performance and knows the importance of excellent craftsmanship and functionality, however he is also a family man.
Garia has built a four-seater street legal LSV for Ryan Hunter-Reay, with customized Garia Mansory accessories such as super-car inspired steering wheel, dashboard and side mirrors handcrafted in carbon fiber.
"This street legal Garia is the ideal leisure car for me and my family's active lifestyle. The quality, driving performance and braking system gives me and my family a feeling of safety, especially when we have our baby boy on board. We love the design of the Garia and its amazing carbon fiber accessories!" said Ryan Hunter-Reay.
Ryan will be bringing his Garia with him on the racing tour enabling it to function as his primary transportation when not in the race car. The street legal ability of the Garia allows it to not only be driven inside the race circuit, but also taken outside and driven on public roads. Ryan has added a custom Hydra-Lift to his motorcoach which will transport the Garia to the various race events from Florida to California and points in-between.
"Garia's marketing strategy has focus on golf and leisure. Last year we introduced the world-famous golfer Paula Creamer as our brand ambassador. Today we are very proud to introduce IndyCar Champion Ryan Hunter-Reay to our brand ambassador family. We feel the four-seater street legal LSV truly complements Ryan's active lifestyle. We have many shared values such as dedication to craftsmanship, performance and the passion for the joy of driving a high quality car. We are confident the Garia will suit his needs" said Anders Lynge, designer of the Garia.
The Garia is created in collaboration with golf professionals and is designed, engineered and built in Europe. The Garia design team has been uncompromising in its efforts to create the best golf car in the world. Luxury features on the Garia include a built-in refrigerator, extra comfortable sport seat and 12" alloy wheels. With the Garia Mansory Accessory Program, it is possible to customize the luxury golf and leisure car into the vehicle you always only dreamt of. The Garia is available in various models, including street legal, two- and four-seater versions as well as a roadster.