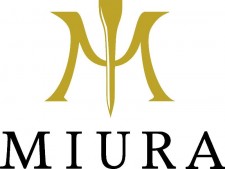 MIURA MAGNIFICENT/OAKLEY AWESOME SWEEPSTAKES TO OFFER MIURA CLUBS, OAKLEY TOURNAMENT SPOT AND MORE TO GRAND PRIZE WINNER AND FRIEND
Miura Golf is teaming up with sporting/leisure powerhouse Oakley to offer a dream prize for a lucky sweepstakes winner and a friend: entry in a super-cool Oakley golf pro-am at the famed Ritz-Carlton Resort in Half Moon Bay, California — plus a set of custom-fitted Miura irons for both the winner and friend!
The Miura Magnificent/Oakley Awesome Sweepstakes requires entrants only to go to Miura Golf's Facebook page (https://www.facebook.com/MiuraGolf) and fill in some basic information to enter — no purchase necessary. Entries close Sept. 17, 2013. The winner will be selected in a random drawing on or before Sept. 21, 2013. (As with any contest, there are conditions: entrants must be 19 years old or older, and must reside in the United States or Canada, but not Quebec. For a full copy of sweepstakes rules and restrictions, consult the link provided on the Facebook page.)
The winner and his or her selected partner will be provided expenses-paid travel to Half Moon Bay, California, two nights lodging at the Ritz-Carlton Resort there, and entry into the Oakley Pro-Am Series NorCal Shootout on October 21, 2013 (with practice round on the 20th, plus all meals, parties and giveaways that go with the tournament). The winner and friend will also have a custom-fitting session with Miura authorized dealer/fitter David Butler of Half Moon Bay, who will make a custom set of seven irons for each of them (although players are advised to bring their own clubs in case the custom set can't be built in time for the tournament). Odds of winning will depend on the final number of entries.
"We can't think of a more fun way to get introduced to Miura," said Adam Barr, president of Miura. "And that's the idea, to create excitement through this sweepstakes that will get folks thinking about and asking about the world's finest forged golf clubs. And with our association with Oakley, another high-quality, high-standards brand, this sweepstakes should be a great time."
Facebook isn't sponsoring the sweepstakes, but it will be information central for the event. Anyone interested in the sweepstakes can also get more information by writing to Miura/Oakley Sweepstakes, 109 Braelock Dr., Ocoee FL 34716; sending an email to Miura at info@miuragolf.com; or by calling 604-708-4653.