Nike Golf Redefines Outerwear with Nike Hyperadapt Storm-FIT Jacket
-Nike Hyperadapt Storm-FIT Jacket combines increased range of athletic motion with waterproof protection-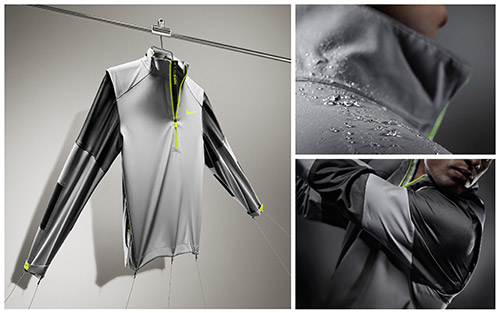 BEAVERTON, Ore. (July 11, 2013) – Nike Golf supports athletes with products designed to take the sport of golf and their athletic abilities to new heights. The new Nike Hyperadapt Storm-FIT jacket gives athletes the comfort, mobility and protection against the elements that their sport demands.
Nike athlete Paul Casey experienced instant success with the new Nike jacket while winning the Irish Open in winds gusting up to 35 mph and heavy showers combined with sunshine. And now, at next week's third major championship of the season, the Open Championship, where weather is known to be grueling and unpredictable, additional Nike athletes will wear the iconic jacket.
Combining flexibility and waterproof protection, the Hyperadapt Storm-FIT jacket is the only golf performance rain jacket of its kind. With sweater-like stretch and an impenetrable outer layer, this jacket combines the benefits of both without sacrificing performance.
Designers worked closely with Nike athletes, including Casey, to test and tweak the Hyperadapt jacket technology. Through comprehensive athlete feedback from on-course testing, Nike designers started the design process from the inside out, making critical adjustments along the way to perfect each detail.
"Inspired by our athletes who demand the best in performance, our team set to work to create a jacket built to change the way golfers feel in unfavorable weather conditions," expressed Merritt Richardson, Nike Golf Vice President of Global Golf Apparel. "We are always working to minimize distractions. From reducing sound to enhancing stretch, the Hyperadapt Storm-FIT jacket is the ultimate in protection and performance."
With no-sew technology throughout the inner layer, designers minimized chaffing and added a new stretch component to the garment. A 4-way stretch system added to the shoulders and arms maximizes mobility and eliminates restrictions during the swing. This woven, stretch knit laminate combination provides a quiet garment during the swing and a sweater-like feel for comfort and protection at every angle.
"Often, athletes will add a size to their rain jackets because they do not want to feel restricted by the fabric," stated Richardson. "This leads to a distracting, oversized jacket that is not optimal for competitive play. The Hyperadapt jacket eliminates this issue by providing athletes the protection they need without sacrificing the performance benefits of a stretch pullover."
Along with a comfortable fit and enhanced mobility, the Hyperadapt jacket is breathable and seam sealed for 100% waterproof protection. Adjustable cuffs offer a custom fit for increased protection and even less distraction giving athletes an advantage with every detail.
Nike Hyperadapt Storm-FIT Jacket
Available: Immediately
Half Zip: $240
Colorways: Black; Cool Grey; Game Royal
Full Zip: $280
Colorways: Black; Cool Grey; Game Royal; Armory Slate