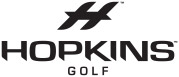 NEWPORT BEACH, CA – June 24, 2013 – Hopkins Golf has officially opened its doors, so to speak, via its company website. By logging onto http://HopkinsGolf.com consumers can customize wedges the way the pros do, as well as purchase other Hopkins Golf-branded accessories, such as headwear and apparel.
"This is a banner day for us," said Greg Hopkins, CEO. "For a long time, we've been preparing to be able to get golfers custom wedges just like Tour players get. We can't wait to hear their reactions when they receive the true tour experience for themselves."
Hopkins Golf has operationally partnered with UPS, the world's leading logistics and shipping company, locating it's club assembly inside UPS facilities. UPS also handles shipping for the new brand. AIM IT Services was tapped to create the Hopkins Golf website, coordinating and integrating vast amounts of information between Hopkins, UPS and Hopkins customers.
About Hopkins Golf
Headquartered in Newport Beach, Calif., Hopkins Golf, Inc. makes tour authentic equipment at factory-direct pricing. Its current tour staff includes Champions Tour players John Huston, Don Pooley, Wayne Levi, Willie Wood, Gene Sauers, Bill Glasson, Dan Pohl and Calvin Peete.