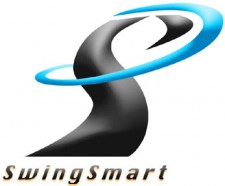 Growth Driven by Widespread Demand for Market-Leading Golf Swing Analyzer
(NORTH BARRINGTON, IL) – NewSpin Golf – maker of the market-leading SwingSmart golf swing analyzer – announces that a surge in consumer demand for its award-winning technology has led to rapid adoption and sell-through at better off-course and green grass retailers.
Widely recognized as the most efficient, effective and fun new tool for helping all players improve on-course performance, SwingSmart is now carried at Dick's Sporting Goods, Golf Galaxy, Edwin Watts, PGA Tour Superstore, Roger Dunn and many independent golf-specialty retailers in the U.S. and overseas. It's also a popular choice among buyers at top public and private facilities, such as Congressional Country Club, Trump National Golf Club, Friar's Head Golf Club, Haggin Oaks and The Kittansett Club, among others.
"The digital swing analysis space is fiercely competitive, but SwingSmart remains the most popular option because of superior quality, ease-of-use and our commitment to helping players improve," says Angelo Papadourakis, CEO of NewSpin Golf. "The system quickly breaks down exactly what the club is doing, so golfers can see specifically what causes the best results and work on replicating it."
A first-of-its-kind solution, users simply clip the small (less than 1 oz.) Bluetooth-enabled SwingSmart sensor module ($249.99) to a golf-club shaft and the device wirelessly communicates with a free app for iPad, iPhone or iPod devices, presenting detailed, easy-to-interpret analytics on:
Key Stats – Tempo, swing speed, face angle, shaft lean; info on each and optimization tips provided within the app by world-renowned instructor Peter Kostis
Path and Plane – "3-D Swing-View" shows 360-degrees of a player's swing motion, highlighting the exact route of the club head from any angle
Putting Results – More than just a full-swing tool, the system provides info on a player's putting stroke to help them reduce scores on the green
Personal Best – Data from a golfer's best swings can be saved and used as points of reference
Developed by a team of expert software designers, SwingSmart combines tracked stats with a "3-D Swing View" to provide a real-time snapshot of how the club is being manipulated through impact. This allows players to adjust and learn what's successful for their individual games. A great, year-round practice tool, SwingSmart features a special training mode that provides the key data necessary to help players learn the proper swing motion, without the pressure of hitting a ball.
Designed and assembled in the USA, SwingSmart's portable sensor module comes with a personal carrying case and rechargeable battery that lasts more than four hours. Widely recognized by PGA Professionals as a way to augment lessons, the app is available for free download via the iTunes store and will soon be offered on the Android Marketplace.
GOLF Magazine recently named SwingSmart the "Best App for Instant Feedback" and it received the Product Ingenuity award in the Emerging Companies category during the International Network of Golf (ING) Industry Honors program at this year's PGA Merchandise Show.
To learn more about product availability, please contact the company at support@swingsmart.com.
About NewSpin Golf
Based outside Chicago, NewSpin Golf is dedicated to revolutionizing golf training for both casual and committed players. Following a chance encounter with a PGA Tour star struggling with his golf swing in 2006, company President and CEO Angelo Papadourakis, an avid golfer, set about designing an easy-to-use and affordable system to help all golfers easily and accurately identify and correct problems in their own games.
More information: www.swingsmart.com, @SwingSmart, www.facebook.com/SwingSmartGolf.