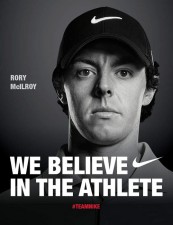 NGCC Charity Auction Offers a Once in a Life Time Golfing Experience with
Nike Golf and Rory McIlroy at Archerfield Links in Scotland
The National Golf Club Challenge (NGCC) online auction has teamed up with
Nike Golf to offer an amazing opportunity for one lucky golfer to play with
one of the most famous, and popular golfers on the planet; Rory McIlroy.
The NGCC charity auction (www.ngccauction.com) which is new for 2013
supports Help for Heroes by raising funds through offering exclusive
golfing packages which are proving to be very popular, and the latest
addition of playing golf with World Number Two Rory McIlroy, as a guest of
Nike Golf, is no exception.
This once in a lifetime golfing experience will take place on Saturday 13th
July 2013, and will include:
– Playing two holes personally with Rory (as part of a full round at
Archerfield Links)
– Taking part in an interactive golf clinic given by Rory and his coach
Michael Bannon
– Nike Golf VR_S Covert Driver fitting
– Being kitted out in a head-to-toe Nike Golf outfit
– Local Hotel accommodation for one night in Edinburgh
– All Day Hospitality
– Domestic UK Round trip travel
Huge thanks must go to Nike Golf, the prestigious Archerfield Links and of
course Rory himself for taking time out of his busy schedule while
preparing for the 2013 Open Championship, to donate their time and
resources to make this unparalleled golfing opportunity possible.
The advice is to bid high and bid soon as the unrivalled 'Play Golf with
Rory McIlroy' auction lot is expected to raise a princely sum for the very
popular Help for Heroes charity. The auction closes at midnight on 30th
June 2013 with the golfing trip of a life time going to the highest bidder.
You can place your bid by going to www.ngccauction.com.
"As a global brand, and with the stable of athletes we have at Nike Golf,
we are in an enviable position of being able to offer up the kind of
opportunity that only comes along once in a lifetime," said Angus Moir,
General Manager, Nike Golf EMEA. "We are delighted to be supporting Help
for Heroes through the NGCC Auction and guarantee the highest bidder will
have an unforgettable experience with Rory and Nike Golf."
Stacey Jeffries, Founder/Event Director of The Volvo National Golf Club
Challenge and the NGCC Online Auction commented "This is an amazing
opportunity. It's not every day you get to play with one of the world's top
golfers, on one the UK's best golf courses – and then get completely kitted
out by one of the world's most famous brands. We are so grateful to Nike
Golf for kindly arranging this unforgettable chance of a lifetime package
supporting Help for Heroes. We continue to be overwhelmed by the generosity
and good will for both the NGCC Auction and the Volvo National Golf Club
Challenge."
The Volvo National Golf Club Challenge runs parallel with the NGCC Auction
in raising funds for Help for Heroes throughout the UK by way of a
nationwide inter-club competition for amateur golfers. Qualifying events
are being held in May, June and July, with registrations still being taken.
There is no entry fee; the only requirement is to use your event as a
fundraiser to support members of the British Armed Forces who have suffered
life changing injuries.
So if you have a club competition already scheduled during May, June and
July, why not follow Rory's example in 'doing your bit' by entering the
event as a qualifier for the Volvo National Golf Club Challenge by simply
adding a £5 H4H donation to the green fee. Find out more and register your
golf club at www.volvongcc.co.uk.