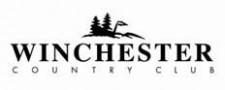 Famed Golf Course, Community near Sacramento hosts more than 250 members and residents at opening launch party with Robert Trent Jones, Jr.
MEADOW VISTA, Calif., May 13, 2013—Famed golf course architect Robert Trent Jones, Jr., the original designer of Winchester Country Club near Sacramento, returned to the luxurious golf course community for the opening party of more than 250 members and residents as the new ownership group of Real Capital Solutions (RCS) launched the season and new projects on Friday night.
"The Winchester Country Club and community is comprised of 409 home sites, 162 of which are resident-occupied and 247 of which have been purchased but not built upon," explained Peter Wells, managing partner of Colorado's Real Capital Solutions (RCS). There are 136 home sites left for sale.
"Winchester is a remarkable high-end community 40 minutes from Sacramento and 40 minutes to Tahoe. With golf play all year, it is an ideal location and with the real estate market heating up, we saw a tremendous opportunity to restore the magnificence and vision of one of California's greatest residential golf communities," Wells said.
More than 250 Winchester Country Club members and residents attended the summer event Friday night as plans for the golf course refinement, programming, food and beverage enhancements and real estate offerings were presented by experts in their respective sectors. Among them included Jones who designed Winchester Country Club – which opened in 2000 — and Gary Mandarich, a renowned Colorado and California real estate developer and contractor with Mandarich Developments.
Jones mentioned architectural refinements that are being considered to "make the course even better," while Mandarich outlined plans for a variety of spec and custom home and home site offerings.
"We are absolutely ecstatic at the support of the community and membership at Winchester," said David Bennett, managing director for the Club. "This is one of the most exquisite golf communities in California and our goal is to restore it to the vision and excellence that its founders created over a decade ago. When you consider the location, the vibrancy of the community and its legacy of high standards; it truly is a very special place."
For more information on Winchester Country Club, contact 530-878-3000 or visit www.winchestercountryclub.com.