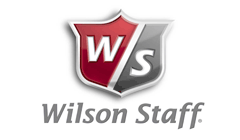 CHICAGO, May 1, 2013 – For Mother's and Father's Day this May and June, Wilson Golf is offering free premium golf ball personalization. The two-piece DUO, one of the best selling and the softest golf ball on the market at 40 compression, as well as the FG Tour and FG Tour X, the three-piece urethane covered pro balls, all qualify for free personalization.
"These three lines have all received Hot List recognition for a reason," commented Doug Thiel, Global Director of Marketing. "The soft compression technology used to design ultimate feel and playability, paired with the demand for them in the marketplace, make them a wonderful holiday gift for all golfers."
Any customized name or abbreviation can be labelled on the seam of the golf balls for free running now until June 5th. Consumers can access this offer through all Wilson Staff dealers, which can be researched on the Wilson Staff website: http://tinyurl.com/ch8ath2.
About Wilson Golf
For nearly a century, Wilson Golf has designed, manufactured and distributed premium and recreational golf equipment throughout the world. Since 1914, Wilson Staff irons have won 61 Major championships, more than any other iron manufacturer in history. Wilson Staff's D-100 Irons, D-100 Driver, D-100 Hybrids, FG Tour TC Wedges, Ci11 Irons as well as the DUO and FG Tour and FG Tour X golf balls were honored with Golf Digest's Hot List awards. Wilson Staff, Profile and Hope consumer brands continue that tradition today by delivering the highest quality golf equipment to all golfers to enhance performance on the course and overall enjoyment of the game.
Wilson Golf is a division of Chicago-based Wilson Sporting Goods Co., one of the world's leading manufacturers of sports equipment by Amer Sports. Consumers can log onto wilsonstaff.com or call 1-800-622-0444 for more information.