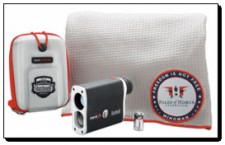 Percentage of Wingman Pack Proceeds Donated to Support Families of Fallen and Wounded Service Men and Women
Overland Park, KS, April 29, 2013 – Bushnell Outdoor Products, makers of the No. 1 Laser Rangefinder on the PGA Tour for more than a decade, introduced the 2013 Tour Z6 Wingman Pack. Similar to Bushnell's Tour v3 Patriot Pack, a portion of the proceeds for each Tour Z6 Wingman Pack goes to support the Folds of Honor Foundation (FHF). Since the original Patriot Pack launched in 2010, Bushnell has contributed more than $450,000 to the foundation, supporting the spouses and children of disabled or fallen soldiers.
The Tour Z6 Wingman Pack is available immediately at retail and features Bushnell's smallest, most technically advanced golf laser rangefinder – the Tour Z6. With its ultra-compact size and increased power, the Tour Z6 is engineered with Vivid Display Technology™ and E.S.P.™ technologies. In addition to the Tour Z6, the Wingman Pack comes equipped with a limited edition Bushnell Golf/FHF embroidered microfiber golf towel, premium carrying case and battery available for $399 (MSRP). The Tour Z6 has become a favorite among golfers because it offers optimal distance measuring performance with the look and feel of a finely tuned precision instrument.
"Building off the great success of the original Patriot Pack, we are ecstatic to provide consumers with this Tour Z6 Wingman Pack and are pleased to add another product to the mix that will support Major Rooney's incredible foundation," said Phil Gyori, Managing Director – North America. "For as long as consumers continue to look for ways to support the Folds of Honor Foundation and gravitate to Bushnell's industry-leading products, we'll be privileged to be a partner and support the foundation."
"We are amazed that Bushnell finds a way each year to not only support our mission, but offer consumers exceptional products that make the choice to support the Folds of Honor Foundation an easy decision," said Major Dan Rooney, the Folds of Honor Foundation president and founder. "We are grateful to continue this extraordinary partnership that has helped us provide invaluable support to thousands of families across the country."
Bushnell previously announced two new Patriot Packs available in 2013 featuring the Tour v3 and Tour v3 Slope. The all-new Patriot Packs come equipped with a Tour v3 or Tour v3 Slope, Bushnell and FHF bag tag, new Bushnell protective carrying case and exclusive Bushnell Golf and FHF branded golf tees at a manufacturer's suggested retail price (MSRP) of $299 (Tour v3) and $399 (Tour v3 Slope).
Founded by Major Dan Rooney in 2007, the Folds of Honor Foundation provides educational scholarships to the spouses and children of service members disabled or killed during U.S. military service. Major Rooney, a former F-16 pilot who served three tours in Iraq, founded Folds of Honor Foundation to ensure that families of fallen service men and women are never left behind on the field of battle.
In addition to the contribution, Bushnell has partnered with country music star Craig Morgan on a donation download program benefitting the Folds of Honor Foundation. A 10-year veteran of the U.S. Army, Morgan wrote and dedicated a song titled "What Matters Most" to the heroes Folds of Honor Foundation supports. The track, a tribute to the millions of service men and women who defend America's freedom, parallels the stories of so many who have lost loved ones on the field of battle. For each download of "What Matters Most," Bushnell will donate $1 (up to $10,000) to the Folds of Honor Foundation.
For more information about partnership between Bushnell and Folds of Honor, visit www.bushnell.com/global/company/folds-of-honor. To learn more about Folds of Honor or join the mission, visit www.foldsofhonor.org. For more information on the Bushnell family of rangefinders, visit the company's website at www.bushnellgolf.com. To obtain images of the Bushnell Wingman Pack, please go to www.bushnellgolfpr.com.