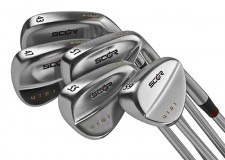 (Victoria, TX: April 17, 2013) – While much of the golf world was focused on an event in Georgia this past weekend, SCOR™ Golf was achieving its first professional tour victory at the Adams Tight Lies Tour's Victoria Open. Professional Garrett Driver relied on his SCOR4161™ precision scoring clubs to ensure SCOR's first professional tour victory.
"This was a great victory for SCOR™ Golf and we congratulate Garrett for his stirring playoff victory," said Terry Koehler, President of SCOR™ Golf. "To have SCOR™ Golf garner our first tour victory in our hometown has made it that much more special and rewarding."
"Garrett is an example of how the younger players are realizing that SCOR™ technologies will help them shoot lower scores," stated Koehler. Garrett used SCOR4161™ precision scoring clubs in 51, 55 and 59 degrees loft with SCOR's proprietary Genius® 12 firm+ shafts. "Proper gapping and our advanced weighting technology delivers more accuracy and improved forgiveness, particularly on high-face misses. Combined with our GENIUS® proprietary scoring range shafts and our custom-fit process, Garrett entered the event with a distinct 'tool box' advantage over his competition."
"Since putting the SCOR wedges in my bag I have become much more confident in my shots from 140 yards and in, as well as chipping around the greens," said Driver. "Not only are the wedges great on full shots, they are also very forgiving and offer great feel on half and three quarter shots. Golf is a game of misses, and I am very pleased with the fact that even if I don't hit the ball solid and in the middle of the clubface, the SCOR™ wedges send the ball on line and very close to the yardage that I want to go. Overall, I am very excited with my new SCOR™ wedges, and look forward to using them for more victories ahead."
About SCOR™ Golf
SCOR™4161 precision scoring clubs are the flagship product of SCOR™ Golf. The revolutionary product line erases the dividing line between short irons and wedges, and represents the first wedge technology designed specifically for the modern power game. This innovative approach to the scoring end of the set has been proven in "Iron Byron" robotic testing to reduce the effect of high-face impact, putting the ball 21 feet closer to the hole than the leading wedge brands. It combines unmatched forgiveness, game improvement performance and superior precision in the scoring clubs for golfers of all abilities. The innovative SC3 progressive weighting design across twenty-one precision lofts from 41 to 61 degrees optimizes trajectory, spin and distance control for each scoring club. SCOR™4161wedges and short irons also feature the renowned V-SOLE® technology, proprietary GENIUS® shafts co-engineered with KBS® and UST Mamiya®, and the company's own SCOR grips. All heads are Tru-Form-Forged™ from 8620 carbon steel to combine the precision of casting with the feel of forging. Each set of SCOR™4161 scoring clubs is custom built to fit each individual golfer by using the proprietary "SCORFit" fitting process that determines the exact specifications necessary to optimize a golfer's performance in the scoring zone. More information on SCOR™ Golf and SCOR™4161 can be found at www.scorgolf.com or at 877-726-7670.