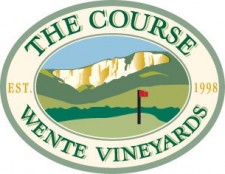 Cabe Jones swings into action with enthusiasm and poise
Livermore, CA (April 15, 2013) – Wente Family Estates is pleased to announce Cabe Jones as the new head golf professional at The Course at Wente Vineyards. The Course, an Audubon Certified Course designed by golf legend Greg Norman, is a premier course that features some of the most scenic holes in Northern California.
"Wente is a 'hole in one' experience. Not only will I get to work at one of the most beautiful golf courses around, but the experience will be paired with award-winning wines, an incredible restaurant, an outdoor concert series and more," said Cabe Jones. "This really is a dream come true."
With eight years of professional golfing experience at Coyote Moon and Old Greenwood Golf Courses near Lake Tahoe, Cabe brings the highest standards in golf course management and an uncompromising level of guest services to Wente Family Estates. He plans to focus on keeping current initiatives up to par, as well as find ways to continually improve the overall guest experience.
About Cabe
Cabe Jones joined The Course at Wente Vineyards as head golf professional in early 2013. His presence is a welcome one, as his genuine enthusiasm and passion for the sport are apparent and inspiring.
Cabe was born and raised in Pendleton, Oregon. He attended Portland State University, where he graduated in 1996 with a Bachelor of Science degree in Social Sciences. Prior to his professional career in golf, Cabe developed experience in restaurant and sales management. After meeting his wife in 2005, Cabe was inspired to pursue his dream and break into the professional world of golf.
In 2006, Cabe began his golf career as an assistant golf professional at Coyote Moon Golf Course and Old Greenwood Golf Course near Lake Tahoe. Within one year, Cabe was promoted to first assistant golf professional at Coyote Moon. Shortly after, he acquired his Professional Golf Association of America Class-A Membership.
In 2010 he took the position of head golf professional at Coyote Moon, directing and overseeing all operations at the course. As both the first assistant and head golf professional, he developed a wide range of experiences on and off the course. He was given the opportunity to build and develop the facility from start to full-scale operations, which he completed in just two months. He also managed all aspects of the course, ranging from marketing, to licensing, to human resource policies and tournament bookings.
His passion for the game began while in high school and college, as it was a way to relax during baseball season. He fell in love with every aspect of golf, including the etiquette, history, and constant challenge. Cabe's dedication and excitement for the game, along with his successful history in operations, makes him a perfect match for The Course at Wente Vineyards.
Currently, he and his wife are awaiting the birth of their third child. Since his start with The Course at Wente Vineyards, Cabe and his family are slowly making their move to Livermore Valley from Squaw Valley.