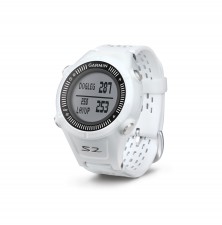 Garmin® Golf Expands with the Approach™ S2: A Sleek Golf Wristwatch Preloaded with over 30,000 Worldwide Courses and Extensive Measurement Capabilities
The Approach S2 GPS golf watch—a sleek, stylish golf watch to expand the already popular Approach Series. The Approach S2 comes preloaded with over 30,000 worldwide courses, and is ready to use right out of the box without any subscriptions or fees. In addition to measuring distances to the front, back and middle of the green (like the Approach S1), the S2 features layup and dogleg distances at a glance so golfers can be at the top of their game, all while keeping track of their strokes on the digital scorecard. Additionally, the Approach S2 boasts a fashionable, yet functional design that is sleek enough for everyday wear but also acts as a digital guide to golf courses across the globe. Approach S2 was announced in preparation for the PGA Show in Orlando, FL. (Jan 24-26 2013) where it will be prominently displayed at the Garmin booth.
"The Approach S2 is the perfect companion for the recreational golfer," said Dan Bartel, Garmin's vice president of worldwide sales. "With over 30,000 courses across the world available out of the box, matched with the extensive measurement features and digital scorecard, this device will instantly give golfers a competitive edge."
Available in multiple color options (white/grey, black/red, purple/white), the Approach S2 measures individual shot distances and precise yardage to the front, back and middle of the green, and for those who walk the course, there is an odometer to tell golfers how far they have walked. The S2 also features layup and dogleg distances at a glance so golfers can improve their understanding of any course and in turn attempt to lower their score. To see the S2 in action, go to www.garmin.com/golf.
Weighing a mere 1.8 ounces, the sleek and athletic design of the S2 allows it to be just as comfortable on the course as it is off. The S2 is rugged, durable and waterproof (to 10m), while its flexible removable bands lend to an enhanced fit and easy replacement for a personalized, sporty look to suit any taste (colorful replacement bands available). With automatic time and date plus an alarm and rechargeable lithium ion battery, golfers will never miss a tee time.
The S2 can be used anywhere in the world and because its over 30,000 worldwide courses are onboard, golfers will never have to worry about data fees nor roaming charges. And, golfers traveling, playing unfamiliar courses, or perhaps want to simply better understand their regular courses at home will be able to improve their score and turn a few heads while doing so with the Approach S2. The S2 also offers lifetime course updates without a subscription or any additional fees. The digital scorecard feature allows for scores to be saved, viewed and analyzed via Garmin's web based program. Scores can also be printed, making it easier for golfers to keep score and keep a record of their round.
The Approach S2 will be available March 2013 and have a suggested retail price of $249.99, and will be available at specialty golf retailers and golf course pro-shops. The Approach S2 is the latest addition to Garmin's outdoor market segment, which strives to enhance users' experiences on the course, on the road, on the trail and on the water. For more information about Garmin products or to read the Garmin blog, please go to www.garmin.com, or connect with us on social media at www.facebook.com/garmin and www.twitter.com/garmin.