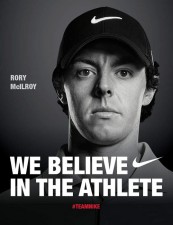 BEAVERTON, Ore. (January 21, 2013) – Nike Golf is set to showcase its latest products at this week's PGA Merchandise Show in Orlando, Florida. Highlighted at the event will be the groundbreaking Nike VR_S Covert club line.
"We are thrilled to showcase our innovative VR_S Covert club line," said Mike Francis, U.S. General Manager for Nike Golf. "From demo day to the convention floor, we will provide a high-energy experience that features marquee Nike athletes and a Distance Challenge so participants can experience the performance of our products. We are proud to show off the innovative technologies that we are bringing to market."
At the Demo Day on Wednesday, January 23, visitors will have a chance to test Nike's latest driver innovation in a Distance Challenge. Participants will get dialed in for distance with FlexLoft in the VR_S Covert or VR_S Covert Tour. FlexLoft is an adjustability system that decouples loft from face angle, allowing golfers to dial their specs independently of each other.
Also participating will be some of Nike's marquee athletes, including Ken Griffey Jr., Penny Hardaway, Ryan Longwell, Fred McGriff, and Alonzo Mourning. Each will partake in a Nike Distance Challenge, testing to find their optimal VR_S Covert setting.
The Nike booth at the Orange County Convention Center will provide a bold experience, as attendees will be surrounded by the power of the Nike VR_S Covert products. The Nike booth highlights three technology pods centered on the Nike VR_S Covert driver, which is the world's first high-speed cavity back driver that conforms to USGA and R&A Rules. The three key Nike technologies include: Cavity back, FlexLoft, and NexCOR.
On the convention floor, Nike Golf Athletes Carl Pettersson and Cheyenne Woods will make special appearances at the show to talk about the latest Nike product innovations.