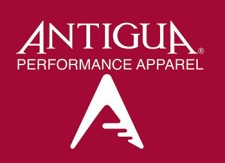 PEORIA, ARIZ. -The Antigua Group, Inc. – one of the nation's leading designers and marketers of genuine sports apparel under its Antigua brand – has expanded their golf performance line for 2013 to include a new collection of performance hats and a variety of executive quality and sport inspired luggage styles.
Pulse, Sedona, Solar, and Circuit Hats for 2013
Four new hat styles are being introduced this season, and each style is embellished with the Antigua branding. The 2013 hat collection offers a variety of styling details that compliment this season's performance golf fashion collection featuring pop bright accents on performance fabrics designed for comfort and fit. All hats are also made available to customize with an embroidered logo of the resort, course or company desired.
The Solar hat is a fitted performance four-way stretch woven fabric offered in a range of seven seasonal bright solid colors (such as Lapis, Apple, and Melon). Circuit hat comes in five solid colors with the bills underside featuring a contrasting multi-bright colored yarn dye stripe that is also featured as the hats piping detail. Each solid color offered features a different pop stripe accent combo complimenting both the hat and the performance fashion collection and is made with an adjustable fit closure.
The Pulse hat is made of a soft yarn dye neutral tonal knit stripe which is derived directly from this seasons fashion golf collection. This contemporary styled hat features a bright contrast accent color subtly placed under the bill and mirrors the contrast cover-stitch accent color deliberately engineered on the seams. Pulse hat is coordinated to the performance golf fashion collection in four color combinations (White/Steel/Lapis, Smoke/Steel/Zest, Black/Steel/Melon, and Navy/Light Navy/Apple).
The Sedona hat features a technical performance 4-way stretch woven fabric that is utilized in the bottoms collection and features the yarn dye plaid and stripe patterns found on the short and pant styles; Sedona Short, Santa Fe Short and Riviera Pant. Both the bottoms and the complimenting hats are all current updates to the Spring '13 golf performance collection.
Offered again for 2013 is Antigua's Fitted hat, that can be a daily go-to accessory that looks great on any golfer. The Chino hat continues to be a wardrobe staple and is also offered as a visor in a wide range of colors. Both the Fitted hat and the Chino hat and visor are one size fits all.
Exec Rolling Duffle
Antigua has also expanded their accessories line to include an Executive collection of luggage made of 100% nylon dobby, and offered in sleek black with grey contrast piping. The new Exec Rolling Duffle is perfect for the traveling golfer and is durable and water resistant. The new Exec Tablet Portfolio is a secure way to transport any tablet and is designed to be embellished with a company or course logo of
Action Backpack
choice.
Also offered this season is a collection of Action sport inspired luggage, essential for the golfer's everyday golfing and traveling needs. The Action Back Pack and the Action Duffel are quality bags that are great for any team to easily add a customized logo to.
The Antigua 2013 accessories line parallels the quality, style, and value the company is known for in its apparel. Accessories can be purchased in some of the finest pro shops and golf retailers, exemplifying Antigua as one of the nation's leading designers and marketers of genuine golf and sports apparel and accessories.
About Antigua
Headquartered in Peoria, Ariz., The Antigua Group, through its license sports division, holds license agreements with the NFL, Major and Minor League Baseball (MLB), the National Hockey League (NHL) and the National Basketball Association (NBA), along with numerous American universities and colleges for men's, women's and children's apparel, headwear and outerwear. Antigua additionally designs, produces and supplies product for corporate America and specialty retail managed under its corporate division. Its golf division also holds license agreements with the PGA TOUR, LPGA and the PGA of America.
The Antigua Group, Inc. 16651 North 84th Avenue, Peoria, Ariz., 85382