MIZUNO INTRODUCES AN MP IRON LIKE YOU HAVE NEVER SEEN BEFORE, THE NEW MP-H4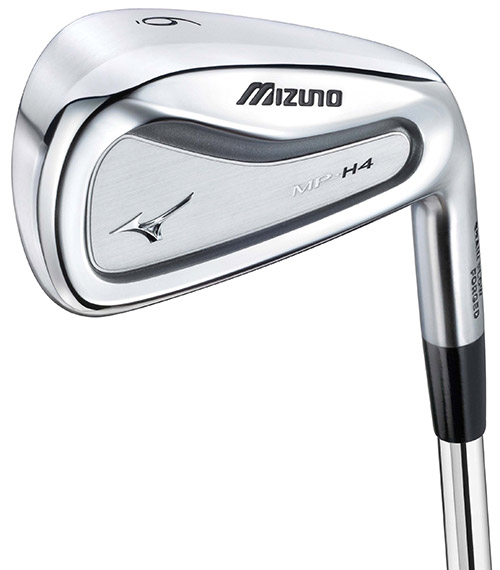 A Revolutionary New Iron That Offers The Most Forgiveness And Playability Mizuno Has Ever Introduced To The Better Player's Market
Norcross, GA (November 15, 2011) – Mizuno, the industry leader in iron technology and development, today announced the launch of its revolutionary new iron set that offers serious golfers the most forgiving and playable MP irons in Mizuno's storied history, the MP-H4's.  Utilizing a seamless blend of hollow hybrid long irons and half-cavity scoring irons, Mizuno's patented Grain Flow Forging process provides players with a soft, solid, consistent feel throughout the set.
Through extensive, advanced computer simulations, Mizuno engineers created the Grain Flow Forged MP-H4 iron set with three different designs, maximizing performance in each aspect of iron play.  The two-through-four irons deliver the legal limit of COR and a deep COG which translates into long, consistent distance with an easy, high launch.  The five-through-seven hollow mid-irons offer a medium level COR and very large 'sweet spot' for controlled distance and forgiveness.  A compact half-cavity design in the eight iron through pitching wedge allows players the precision accuracy and trajectory control needed to pin seek with scoring irons.  The three unique head constructions that make up the MP-H4 set are seamlessly blended for feel, trajectory and ball control.
"Category 'firsts' and 'leaders' are often overused terms in the golf industry, but the new MP-H4 irons are truly revolutionary and will change the way golfers look at 'players' irons," said Dick Lyons VP and General Manager, Mizuno USA, Inc.  "A seamless transition from the forgiving, hybrid long irons to the pin-seeking, shot-making ability of the scoring irons deliver a new class of irons for the 'players' market."
Scientifically designed to optimize sound and feel at impact, the MP-H4's utilize Mizuno's Harmonic Impact Technology (H.I.T.) paired with Modal Analysis software to deliver feel that Mizuno players have grown to love.  Mizuno also incorporated a strategically placed trailing edge bevel that allows for a wider sole and deeper COG, providing ease of launch and forgiveness when striking the ball.  Additionally, the MP-H4 delivers Tour confirmed turf interaction for ball striking ability from all types of lies, and modified U-grooves that produce an optimal spin rate for ideal trajectory.
Right Hand Only
Shaft: 2-PW Dynamic Gold
Grip: Golf Pride M-31 58 Round
Other Options available through Mizuno's Custom Department
Suggested Retail Price: $1099.99
Available: Immediately
Mizuno USA, Inc. is a wholly owned subsidiary of Mizuno Corporation, one of the largest specialty sporting goods manufacturers in the world. Mizuno USA, Inc. manufactures and distributes golf, baseball, softball, running, track & field, and volleyball equipment, apparel, and footwear for North America.  Mizuno USA, Inc. is based in Norcross, Georgia.