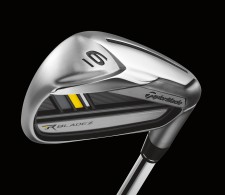 King Calls New Iron Technology a "Once in a Lifetime Innovation"
CARLSBAD, Calif. (October, 23, 2012) − TaylorMade Golf Company President and CEO Mark King announced the arrival of what he says is the biggest iron innovation to date. Today, via a global webcast, King officially introduced RocketBladez, an iron with a remarkable new technology that promotes high launching, long, straight and quick-stopping performance for golfers of all abilities.
RocketBladez' key new technology is its "Speed Pocket," inspired by the distance-enhancing benefits of the RocketBallz fairway woods and Rescue clubs. TaylorMade engineers incorporated the Speed Pocket into RocketBladez irons to promote faster ball speed and a higher launch angle to promote longer, high-flying, quick-stopping shots. Altogether, the RocketBladez set consists of eleven individually designed clubheads, each tailored in size, shape and features to maximize distance, control and feel like never before.
"Metalwoods have advanced tremendously since TaylorMade introduced the first one in 1979," said King. "The ball has advanced too, and even footwear and apparel have improved a great deal. But there hasn't been a significant advancement in irons since the perimeter-weighted cavityback was introduced more than 50 years ago. The Speed Pocket changes that – it's a once-in-a-lifetime innovation in the iron category. If your iron doesn't have a Speed Pocket, your iron is out-dated."
Incorporated into the 3- through 7-irons, the Speed Pocket is a 2mm-wide slot in the sole of the iron that flexes and rebounds at impact, increasing the speed of the face to promote faster ball speed, a higher launch angle and a higher, stronger ball flight that lands on a steep, quick-stopping descent angle.
The Speed Pocket advantage is especially effective on impacts made low on the face, TaylorMade studies indicate that 68% of iron shots by amateur golfers are mis-hits below the center of the face. The Speed Pocket helps to significantly increase ball speed and distance on those low-face mis-hits.
Tour professionals will also benefit from the distance benefits of the Speed Pocket, as TaylorMade is also offering a RocketBladez Tour model. Unlike other distance irons, the RocketBladez Tour iron delivers consistent distance and is void of "hot spots" on the clubface, to ensure predictability and distance consistency from shot to shot.
"We created RocketBladez irons for amateurs, but when our Tour Staff pros tried it, they wanted it," said King. "We created a Tour version, and they love it. It's the first distance-oriented iron to be played on Tour. The genius of the Speed Pocket is that not only does it deliver more speed for more distance, it delivers consistent speed, so shots fly a consistent distance. That combination of speed and consistent distance is what made the eyes of our tour pros light up."
The 3- through 7-irons boast the most sophisticated clubface TaylorMade has ever created for a Tour iron, fashioned from fast, high-strength stainless steel with improved Inverted Cone design. Consistent distance gaps throughout the set made possible by careful management of the Speed Pocket, Inverted Cone, face thickness, CG location, loft and shaft length.
RocketBladez irons are priced at $799 with steel shafts, $899 with graphite shafts, and are available for pre-order on October 23. The irons hit retail starting Monday, December 3. RocketBladez Tour Irons will be available at retail February 1 for $899. Learn more at taylormadegolf.com.
Tech Talk
Speed Pocket
The Speed Pocket flexes and reflexes at impact to add speed to the clubface, which increases ball speed and launch angle. The Speed Pocket is filled with a specially formulated polyurethane developed by 3M that quiets vibration without significantly slowing/inhibiting the flex of the pocket, while also keeping debris out. In conjunction with the highly sophisticated face design (11% thinner than our previous thinnest), adds up to 10 COR points to the face compared to Burner® 2.0 irons, and promotes dramatically less drop-off in ball speed on impacts low on the face—where the majority of iron mis-hits occur. That means the COR low on the face is higher than it's ever been in a TaylorMade iron, and the benefit is that thin shots carry significantly farther.
Ultra-thin clubface with improved Inverted Cone design
The RocketBladez clubface (both models) consists of strong, maraging stainless steel. It's our most sophisticated clubface design yet, made possible by more evolved analysis and testing and our increasing mastery of the manufacturing processes. It's the thinnest iron face TaylorMade has ever created, with the top section now 1.6 mm, down from 1.8 – that's 11% thinner. Both new RocketBladez iron models also incorporate our most newest and most effective iteration of Inverted Cone Technology. The improved Inverted Cone design delivers two critical benefits. One, it increases the size of the clubface area that delivers high ball speed. Two, it influences how the face flexes and rebounds at impact to control the angle at which the ball leaves the face, promoting straighter shots and a tighter dispersion. This is a critical benefit that promotes significantly greater accuracy compared to previous high COR irons.
Low and centered CG location
Impacting the ball where the CG is located on the face is critical to achieving maximum ball speed. In both RocketBladez iron models, TaylorMade engineers fine-tuned the CG to a low and absolutely centered location on the face by shortening the hosel to save weight and taking additional weight from the top of the club, then redistributing it all in strategic areas within the head. In the RocketBladez clubhead design, 17.5 grams of redistributed weight enabled us to lower the CG by 2.5 mm compared to the Burner® 2.0 iron. Locating the CG lower and in the center of the face makes it easier to consistently find the sweetspot to achieve maximum energy transfer from club to ball, promoting a higher launch angle and maximum distance.
External and internal hosel-bending notches
RocketBladez irons (both models) feature a distinct external notch on the outer, rear side of the hosel and an internal notch inside that together make it easy to bend the head to change the lie angle. That's a distinct advantage to bendability when employing high-strength stainless steel in the head construction.