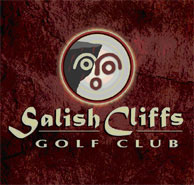 Golfers Who Present a Round Receipt in the Casino Get a Mulligan for up to a $25 Bet at a Blackjack Table
(SHELTON, WA) – Little Creek Casino Resort – located a scenic, easy drive from Olympia and Seattle – announces today that the award-winning Salish Cliffs Golf Club is now offering special green fees, and golfers can also participate in the new "Mulligan Madness," for use at blackjack tables in the adjacent Little Creek Casino Resort.
"The course is in outstanding condition and the fall is one of the best times of the year for golf in the Pacific Northwest," said Salish Cliffs Head Golf professional David Kass, PGA. "We're looking forward to golfers and guests taking advantage of these special rates and then using their 'mulligan' at the blackjack table."
Green fees are now $75 (Monday-Thursday) and $85 (Friday-Sunday) for 18 holes, and $45 and $55, respectively, for nine holes, including cart, range balls and tax. Resort guests can receive a rate of $65 (Monday-Thursday) and $75 (Friday-Sunday) for 18 holes. MVP Player card holders, Primetime Players (ages 50 and older) and military personnel pay $70 (Monday-Thursday) and $80 (Friday-Sunday).
"Mulligan Madness" allows players to present their green fee receipt to the Little Creek Casino Resort's Player's Club Desk and receive a voucher good for a "mulligan" on one blackjack bet, up to $25. This offer is available to MVP Club Members only and at live blackjack tables, including Spanish 21. Registering as an MVP Club Member can be quickly accomplished and requires a valid driver's license or other accepted form of identification.
Tee times can be booked with a major credit card up to 10 days in advance at www.salish-cliffs.com. Advanced tee-time booking up to 60 days in advance is available for those with confirmed Little Creek Casino Resort hotel reservations by calling the golf shop at 360.462.3673.
Since opening in September, 2011, Salish Cliffs has garnered numerous accolades from national golf publications such as Golf Digest, Golfweek and GOLF Magazine and has been listed among the top casino-resort courses in the U.S. In March, Salish Cliffs became the world's first Salmon Safe Certified golf course.
The course is located adjacent to Little Creek Casino Resort, which is owned and operated by the Squaxin Island Tribe and just recently unveiled the Seven Inlets Spa and Skookum Spirit Cigar and Wine Lounge. The resort regularly attracts headline entertainment acts at the Skookum Creek Event Center.
For more information, visit www.little-creek.com or call 1-800-667-7711.