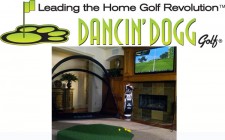 Iconic Chicago-Area Course Replication Joins Premium Library in Advance of Hosting International Team Competition
(TRAVERSE CITY, MI) – Dancin' Dogg Golf – maker of the award-winning OptiShot Infrared Simulator, the ultimate in-home virtual golf system – announces that Windy City Club, a replication of the upcoming host site for the game's most famous international team competition, is now part of the company's premium course library.
Widely regarded as one of America's great parkland layouts, Windy City Club has hosted five major championships and ranks among the country's top-100 courses, according to both Golf Digest and GOLF Magazine. At 245 yards and often buffeted by winds off Lake Kadijah, the signature par-3 13th hole has befuddled many great champions. Its small, elevated green guarded by three bunkers is sure to play a key role in several of the upcoming matches.
"Our replications have been widely celebrated because they showcase the true depth of OptiShot's fully immersive, virtual golfing experience," says Brandon Theophilus, CEO of Dancin' Dogg Golf. "Whether rooting for the U.S. or Europe, users can recreate the magic of this historic competition and challenge themselves by hitting shots from the exact same positions as the world's best players."
Like the company's other premium layouts – including major championship venues Atlanta Highlands, Capitol Club, Fylde Links, Golden Gate Club, Jones Lake, Monterey Classic, Old Scot, Royal St. Marks and Whispering Dunes – Windy City Club can be downloaded at www.dancindogg.com for a one-time fee of $49.95.
OptiShot (MSRP: $399.95) connects with Windows computers via a plug-and-play interface and requires only 8-½ feet of swing space. With their own clubs, up to four players per round can compete by hitting real balls, foam balls (provided) or no ball at all. Infrared sensors on a durable swing pad precisely record club-head speed, face angle, swing path, distance, tempo, face contact and ball flight. In addition to Core courses that come with the system, OptiShot users can practice and compete on the par-3 option or a realistic driving range.
More information:  www.dancindogg.com, www.facebook.com/dancindogg, 866.941.3644.
About Dancin' Dogg Golf
Based in Traverse City, MI, Dancin' Dogg Golf was founded in 2005 and specializes in developing innovative technologies. Twice named to the prestigious Inc. 500 list as one of America's fastest-growing entrepreneurial companies, it has also been honored with the SCOREGolf Research & Development Award, named to the "Michigan 50 Companies to Watch" list and received a "Flyover 50 Award" as one of the Midwest's fastest-growing companies.
The Dancin' Dogg product range is highlighted by the OptiShot Infrared Golf Simulator, which is offered at nearly 2,000 retail locations throughout North America and a growing number of shops internationally. The company's ever-expanding library of world class courses includes sites of major championship, international competitions and Tour events.
Durable and built to last, OptiShot comes with a 180-day warranty and has been heralded by leading authorities worldwide, including Asian Golf Monthly, CNBC, Discovery, Global Golf Post, Golf Channel, GOLF Magazine, Golf Monthly, Golfweek, Maxim, NBC Universal, SGB Golf, Sports Illustrated, Sports Business Journal, Sportfack, TheStreet.com, USA Today, Wired and many others.