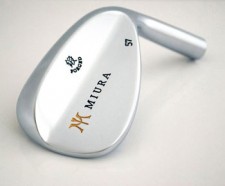 Vancouver, B.C. —  It takes the soul of an artist and the mind of an engineer to improve on beautiful, effective golf clubs. That's the spirit behind Miura's New Wedge Series.
The New Wedge Series from Miura, the world's preeminent maker of quality forged golf clubs, preserves the eternal elements of the "old" Series and adds refinements that make the clubs a pleasure to look at and a joy to play. Now in odd-numbered lofts from 51 degrees through 59, the New Series features redesigned bounce angles that work well with the way thinking players like to play golf. Leading edge and bounce angle combine for a quality impact that leads to a crisp, consistent divot. Distance control and feel are available to the player like never before.
Then there's the visual pleasure of a fine chrome finish, topped by a new, understated Japanese character — or kanji — that translates best as "striving," or "noble effort."
"Shinei Miura and his brother Yoshitaka, with help from their father, Mr. Miura, have come up with a truly artistic set of refinements for our wedges," said Adam Barr, president of Miura. "Significant changes don't have to be big. After watching and listening to hundreds of players, the Miura family learned a great deal about how golfers like their wedges to get through the turf. So while some of our bounce angles haven't changed in terms of number of degrees, subtle improvements in the overall sole shape have made more effective bounce angles that the Miuras are very proud of."
The engineering changes also extend to the amount of offset, which is a bit higher in the 51-degree version, but decreases as loft goes up — that is, where more offset isn't needed. In the 57- and 59-degree models, there's even a small amount of onset. The Miuras performance-tested these wedges and found that this offset progression helps many players to make a clean, pure strike at the ball.
As usual, the New Wedge Series are manufactured to very tight tolerances. Miura clubs in any model never vary more than half a gram — that is, 1/56th of an ounce. That's much more accurate than the industry standard. The New Wedges cover a head weight range from 297 grams in the 51-degree model to 307 grams in the 59. At each loft, the weight combines with the proper length of shaft (as determined by an authorized Miura dealer/fitter) to give players the feel and "heft" they need to create excellent shots around the green, in bunkers, and on tricky approaches.
The suggested retail price per club in the New Wedge Series starts at US$235.00 depending on shaft and grip options.