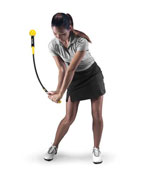 The Gold Flex™ 40
The popular Gold Flex™ Strength and Tempo Trainer is now available in a smaller size that's ideal for ladies and juniors. The new Gold Flex™ 40 is designed to improve your swing while providing a core muscle workout. With a large, round head and flexible shaft, the Gold Flex encourages a flatter swing plane and forces the downswing to be initiated by the lower body, both of which fight slices. The weight and flex of the Gold Flex combine to improve lag and fight casting. It also acts as a fitness tool to strengthen and condition golf-specific muscles, increase flexibility and improve coordination.
The Gold Flex addresses issues with flexibility, swing plane, and tempo. It's the ideal warm-up and practice tool, and it can be carried in the bag during the round, making it perfect for taking a few swings before stepping into that first tee box. The Gold Flex measures 40" in length and can be used by golfers of all skill levels. The suggested retail price is $59.99.
About SKLZ
SKLZ is committed to elevating the athlete in each of us by guiding and serving athletes on their journeys to be their personal best. As the flagship brand of Pro Performance Sports, SKLZ develops innovative athletic performance and skill development training products, technology and knowledge for serious athletes of all ages, skill levels and sports. Based in San Diego, California, SKLZ delivers durable, high-performance trainers that can be found around the world at major sporting goods retailers, specialty shops, and mass merchants, as well as on the SKLZ web site at www.sklz.com.