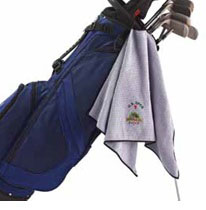 Microfiber Pro Towel Absorbs Seven Times Its Weight In Water
RICHMOND, Va., August 23, 2012 – Devant, known in the golf industry for its high  quality towels and innovative designs, has added the Microfiber Pro Towel to its 2013 line.
The Microfiber Pro Towel is a lightweight, ultra absorbent towel that features a waffle weave texture. The premium microfiber constructed strands trap more dirt and dust than a standard cotton towel, yet it is both mold and mildew resistant. The Microfiber Pro Towel also absorbs seven-times its weight in water and can be used wet or dry. The towel is a professional caddy size of 16 X 32 inches and has a web strap handle to go over the club head and stay secure.
The towel comes in two colors – silver with black trim   and white with black trim. The Microfiber Pro Towel can be custom logoed with embroidery or Image Dyed™. Devant's proprietary Image Dyed™ process infuses color into the fabric and the custom logo will outlast the life of the towel.
The Microfiber Pro Towel will be available October 1 for a suggested retail of $14.95 or $19.95 with customization.
Founded in 1976, Devant Sport Towels has become one of the most respected brands in golf by building a reputation for unmatched quality, design, innovation and service. Devant, located in Monroe, N.C., manufactures and distributes a full line of custom sport towels, cotton tapestry throws and hi-def bag tags. Devant is the official licensee of the 2011-12 PGA Championships, 2012 Ryder Cup and 2013 U.S. Open Championship. Dynamic Brands is the parent company of Devant and is located in Richmond, Va. Also in the Dynamic Brands portfolio are Bag Boy®, Burton®, Datrek® and Sir Christopher Hatton®. For information on Devant visit www.devantsporttowels.com or call customer service at 800.955.2269.