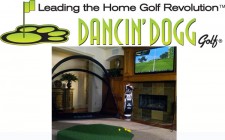 Prestigious Seaside Layout is Latest Replication of Major Championship Venue Added to Premium Course Library
(TRAVERSE CITY, MI) – Dancin' Dogg Golf – maker of the award-winning OptiShot Infrared Simulator, the ultimate in-home virtual golf system – continues to expand its library of premium courses with the addition of Carolina Ocean Course, a hyper-accurate replication of the Pete and Alice Dye design set to host the year's final major championship.
Opened to great fanfare in 1991 as site of the dramatic "War by the Shore" Ryder Cup, Carolina Ocean Course perennially ranks among America's greatest courses. With more seaside holes than any other layout in the Northern Hemisphere it's a true work of beauty that leaves players susceptible to stiff winds. These, combined with large slopes, numerous bunkers and challenging Bermuda grass led Golf Digest to declare it the "toughest course in America."
"Any time you're working with a course that's received so much TV time over the past two decades, it's essential to capture the most minute details," says Brandon Theophilus, CEO of Dancin' Dogg Golf. "From the incredible vistas to the unpredictable winds, our in-house design team did an exceptional job ensuring OptiShot users can escape to coastal South Carolina without leaving home."
Like the company's other premium layouts – including major championship venues Atlanta Highlands, Capitol Club, Golden Gate Club, Jones Lake, Monterey Classic, Old Scot, Royal St. Marks and Whispering Dunes – Carolina Ocean Course can be downloaded at www.dancindogg.com for a one-time fee of $49.95.
OptiShot (MSRP: $399.95) connects with Windows computers via a plug-and-play interface and requires only 8-½ feet of swing space. With their own clubs, up to four players per round can compete by hitting real balls, foam balls (provided) or no ball at all. Infrared sensors on a durable swing pad precisely record club-head speed, face angle, swing path, distance, tempo, face contact and ball flight. In addition to Core courses that come with the system, OptiShot users can practice and compete on the par-3 option or a realistic driving range.
More information:  www.dancindogg.com, www.facebook.com/dancindogg, 866.941.3644.