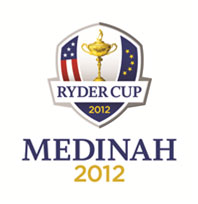 The PGA of America Announces 39th Ryder Cup Gala With Appearances From 2012 Ryder Cup Captains, U.S. And European Teams, Grammy Award®-Winning Band Chicago and Team Ambassador Justin Timberlake
Tickets Now Available To General Public Via Ticketmaster
MEDINAH, Ill. (July 30, 2012) – The PGA of America is pleased to announce that general public tickets are now available for the 39th Ryder Cup Gala on September 26, 2012, at the Akoo Theatre in Rosemont, Ill.
The Ryder Cup Gala will showcase the 2012 U.S. and European Ryder Cup teams in spectacular fashion and provide the only opportunity for fans to see this talented group of players together outside the grounds of historic Medinah (Ill.) Country Club. The Ryder Cup, golf's most patriotic and prestigious international team competition, will take place Sept. 25-30 at Medinah.
Following red carpet arrivals with this year's Ryder Cup teams and other celebrities from the sports world, the Gala will include appearances by U.S. Ryder Cup Captain Davis Love III and European Ryder Cup Captain José María Olazábal and world-class entertainment, including music from the Grammy Award®-winning band Chicago. As the first-ever Ambassador for the U.S. Ryder Cup team, Justin Timberlake will also appear at the Gala. Various Windy City icons and other special guests will also be announced prior to the event.
The event will begin at 8:30 p.m. CDT, with doors opening at 7:30 p.m. Tickets for the Ryder Cup Gala range in price from $200 to $300 and are available to the general public at Ticketmaster.com or by calling Ticketmaster at (800) 745-3000.
"We are very excited to celebrate the 39th Ryder Cup with this Gala event, which will provide guests with a one-of-a-kind experience with the Ryder Cup Captains, teams, Justin Timberlake and the iconic band Chicago," said 2012 Ryder Cup Director Michael Belot. "It will be an unforgettable evening celebrating global golf, the Chicagoland area and all things Ryder Cup. This is a high-demand event, so I would encourage all interested fans to purchase their tickets today and secure their spot at the Gala."
The event will be produced by IMG Media. Executive Producers of the gala will be Bob Holmes and Steve Mayer.
For more information about the 2012 Ryder Cup, visit www.RyderCup.com.