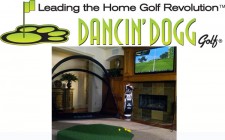 Celebrated Bay Area Layout Now Part of Premium Course Library Ahead of U.S. Open Week
(TRAVERSE CITY, MI) – Dancin' Dogg Golf – maker of the OptiShot Infrared Simulator, the ultimate in-home virtual golf system – has added Golden Gate Club, a true-to-life replication of one of the most prestigious and classic major championship venues, to its premium course portfolio.
A five-time host of the U.S. Open championship, Golden Gate Club is one of the nation's most historic layouts. Recently ranked among America's top-30 courses by Golf Digest and GOLF Magazine, its sloping, tree-lined fairways and small, well-bunkered greens have challenged the world's top players since opening in 1918.
"Thanks to the hard work of our talented, in-house design team, we're able to launch Golden Gate Club to coincide with the 2012 U.S. Open," says Brandon Theophilus, CEO of Dancin' Dogg Golf. "This allows OptiShot users to watch the championship during the day and play a precise replica of the course using their own clubs that evening, or anytime afterward."
Like the company's other premium layouts – including Atlanta Highlands, Capitol Club, Monterey Classic, Old Scot, Ponte Vedra, Royal St. Marks and Whispering Dunes – Golden Gate Club can be downloaded at www.dancindogg.com for a one-time fee of $49.95.
OptiShot (MSRP: $399.95) connects with Windows computers via a plug-and-play interface and requires only 8-½ feet of swing space. With their own clubs, up to four players per round can compete by hitting real balls, foam balls (provided) or no ball at all. Infrared sensors on a durable swing pad precisely record club-head speed, face angle, swing path, distance, tempo, face contact and ball flight. In addition to Core courses that come with the system, OptiShot users can practice and compete on the par-3 option or a realistic driving range.
Dancin' Dogg Golf was recently ranked one of America's fast-growing entrepreneurial companies by Inc. Magazine, placing No. 358 on the prestigious Inc. 500 list for 2011. This honor was based on the company's 951.2% revenue growth from 2007 through 2010.
More information:  www.dancindogg.com, www.facebook.com/dancindogg, 866.941.3644.