BEAVERTON, OR (May 22, 2012) – Nike Golf today announced the introduction of a new app and website that will provide golfers with an innovative digital tool to improve, track and share their golf game.  In keeping with the company's aim to inspire, innovate for and enable golfers to become better, the new Nike Golf 360 (NG360) app is the beginning of Nike Golf's move into a new era of potential for golfers.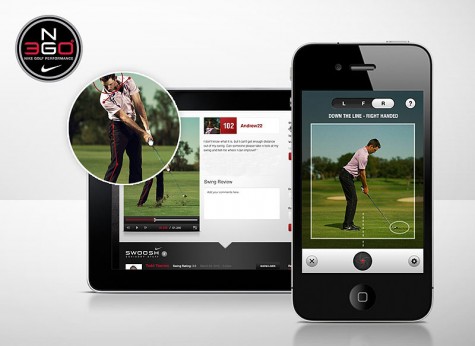 The NG360 App is an easy-to-use tool that will allow golfers to track their rounds to see how they stack up; improve their swing techniques with the help of coaches; and view and implement athletic training workouts that are golf-specific.
"This is about serving the golf athlete.  It's about knowing your game to better your performance," said Nate Randle, U.S. Marketing Director for Nike Golf.  "The NG360 App lets golfers look at their game through a 360-degree lens. This is only the beginning of amazing things to come from Nike Golf as it relates to digital sport and the experience on and off the course."
Nike Golf abides by the steadfast philosophy that every golfer is an athlete, and no two golfers are the same. With the NG360 App, each individual golfer has the unique opportunity to gain a clearer understanding of their own game, swing and body. As they begin to better understand themselves as golfers, they gain clarity on which areas of their game they need to focus. In other words, to know their game means to better their game – that is what the NG 360 App represents.
View the NG360 App video here: http://www.youtube.com/watch?v=4RscoFWh9X0
The key components that make up version one of the app are:
My Game
Golfers can track their game by keeping statistics such as their scoring average, driving accuracy, greens in regulation and average putts per round. "My Game" allows golfers to see how they stack up by monitoring results and beating their personal bests.  Within "My Game," golfers stay motivated by winning "trophies" as a result of improved statistics.
My Swing
Golfers can upload and compare video of their golf swing to their friends and Nike Golf athletes.  They can also receive personal coaching from Nike Swoosh Staff members who are PGA Teaching Professional instructors.  Swoosh Staff members can provide feedback and swing tips through a video swing analysis tool.
My Body
This will help golfers get into golf shape, thanks to Nike Golf's partnership with the Gray Institute, the foremost leader in Applied Functional Science.  The Gray Institute has developed the NG360 Functional Performance System that is tailored to golf movements that the body makes, a clear distinction from other training systems.
My Gear
Golfers can navigate products on the website that are suitable to their needs, while also receiving product recommendations from the Nike Swoosh Staff.  Golfers can also upload the contents of their bags in the "What's in their Bag" section.  "My Gear" will increasingly become more robust as the NG360 App evolves.
The new NG360 App is one piece of a bigger initiative that is a holistic approach to improving golfers' performance through physical evaluation and training, custom fitting of equipment and digital tracking applications.
The new NG360 App is available for free from the App Store on iPhone and iPod touch or at www.iTunes.com/appstore/.