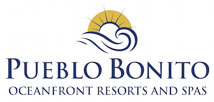 Cabo San Lucas, Mexico (May 7, 2012) – Pueblo Bonito Oceanfront Resorts and Spas recently announced they have begun construction on an 18-hole championship golf course in Los Cabos. The course, designed by golf legend Jack Nicklaus, will be located at Quivira, the 1,850-acre luxury community in Puerto Escondido, on the Southern tip of the Baja Peninsula where Pueblo Bonito Pacifica and Sunset Beach are located.
"Los Cabos has a long history as a premiere golf destination and we are excited to bring a championship course to Quivira, our Los Cabos properties, and the destination," said Ernesto Coppel, President and Owner of Pueblo Bonito Oceanfront Resorts and Spas. "We look forward to the completion of this course and providing our guests with a lifetime of memorable golf experiences at Pueblo Bonito."
The area's unique natural terrain, including massive sand dunes, rugged cliffs, white-sand beaches, private coves and desert canyons, will provide the setting for the course, which will hug the coastline and wind through the hillside.
Construction has begun on the water infrastructure and two oceanfront golf holes as well as the temporary practice facility, located right on the beach. Simultaneously, work has commenced on the holes which wrap around Quivira Mountain. Nine holes are expected to be grassed by the end of 2012, and the course is scheduled to be fully completed by April 2013. Upon completion, the resort course will be open to Pueblo Bonito guests and Quivira residents.
Quivira is a 1,850-acre luxury residential community made up of residential housing, the Pueblo Bonito Pacifica Resort and Spa and Pueblo Bonito Sunset Beach Resort and Spa. Future plans for Quivira include a golf clubhouse, two beach clubs, hiking/biking trails, spa and village center with restaurants, bars and the new Jack Nicklaus Signature golf course.
Pueblo Bonito Oceanfront Resorts and Spas consists of six award-winning properties: Pueblo Bonito Pacifica Resort & Spa, Pueblo Bonito Sunset Beach Resort & Spa, Pueblo Bonito Rosé Resort & Spa and Pueblo Bonito Los Cabos in Los Cabos and Pueblo Bonito Mazatlán and Pueblo Bonito Emerald Bay Resort & Spa in Mazatlán. Each of the Pueblo Bonito resorts welcome guests with lavish accommodations, unsurpassed service, fine dining and a host of on-site amenities. Pueblo Bonito Pacifica is now on an exclusively Luxury Without Limitations program, offering guests a high-end all-inclusive experience. Additionally, guests of Pueblo Bonito Rosé, Los Cabos and Mazatlán can opt-into the Deluxe All-Inclusive program or the Luxury Without Limitations program available at Emerald Bay and Sunset Beach. For more information please visit www.pueblobonito.com, find us on Facebook and follow us on Twitter @PuebloBonito.