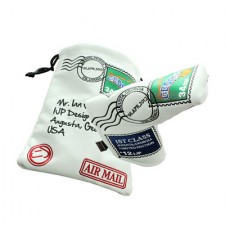 (Riviera Beach, FL: October 18, 2012) As the world"s best golfers turn their attention to this year"s Masters, so has IJP Design, as it launches a Limited Edition IJP putter cover. Named "The First Major", the cover is the first in a series of four specially designed putter covers to mark each of this season"s Majors, some of which include Ian Poulter"s own drawings.
Only 750 Limited Edition putter covers are being produced and each will have their own individually signed and numbered silver tag. Like the new IJP Design Spring/Summer 2012 collection that launched this month, the putter covers are eye-catching in design, featuring Ian Poulter"s signature and bright colours from the postal graphics, which were chosen to tie in with Ian"s recent nickname as "The Postman".
The covers will also come with their own protective, lined tote bag. Golfers wishing to order the limited cover can do so now for delivery in time for the Masters 2012 for $70.00 at www.ijpdesign.com.
Mark Truby, Managing Director of IJP Design said, "The Majors offer a great opportunity across the golf season for IJP Design to give it"s customers something new. With only 750 putter covers being produced, golfers can be sure of an exclusive addition to their golf kit, which will also be in Ian"s golf bag at Augusta next week." He added "Ian loves getting involved with these designs. It"s a really great opportunity for him and us to do something a little different"
About IJP Design
Ian Poulter launched IJP Design in 2007 after being unable to find clothes he wanted to wear on the golf course that both looked good and performed well, combining high quality tailoring with technical perfection. IJP Design has created a name for itself as a unique and exciting golf and lifestyle brand with a fashionable edge. The IJP Design brand philosophy is to "lead with the legs" by designing the trousers first and then coordinating the rest of the outfit around them. As such, the Poulter Tartan is also one of the key elements of the IJP Design brand and all the bespoke Poulter Tartans are licensed with the Scottish Tartan Authority. The Spring/Summer 2012 collection is the label"s 10th collection and by the end of the year will be stocked in all 30 golf playing nations around world.