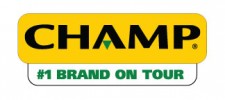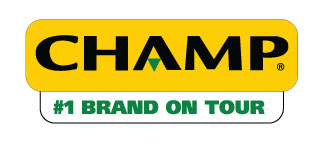 Popular Performance Tee Now Features Unique Height Control System to Maximize Consistency
(MARLBOROUGH, MA) – CHAMP/MacNeill Engineering Worldwide – The World Leader in Sport Cleat Technology® and maker of innovative CHAMP spikes, high-performance golf tees and accessories – announces the nationwide availability of its new, eco-friendly MyHite Zarma FLYTee featuring a unique height control system to promote optimum contact.
An extension of the Zarma FLYTee line preferred by Tour players worldwide, the latest models feature a series of colored bands around the stem, allowing golfers to quickly and easily place the ball at a consistent height. This unique design maximizes consistency by helping ensure   repeatable performance with every swing.
"The days of the wooden golf tee are numbered, as players and facilities turn in droves to the superior performance, durability and cost-effectiveness of performance tees," says Harris MacNeill, President and CEO of CHAMP/MacNeill Engineering Worldwide. "Our MyHite models are the new category leader and prove innovative, game-enhancing equipment doesn't require players to make a large investment."
Like the entire Zarma FLYTee range, MyHite tees are constructed using a market-proven bio-agent additive created by ECM Biofilms, Inc. This enables microorganisms to metabolize the plastic into humus, an organic matter which benefits the environment.
Available for $7.99 in 40-pack (2 ¾ inches) and 30-pack (3 ¼ inches) options, additional features of the MyHite Zarma FLYTee include:
A six-pronged head and shallow cup to reduce friction while promoting increased distance and accuracy
Five-times more durable than wood tees
Reinforced shank for enhanced stability
Re-usable and recyclable packaging
Beyond the scoring and environmental advantages, these tees help facilities dramatically improve course operations, appearance and profitability by reducing tee consumption, decreasing tee litter and lowering purchasing expenses.
For more information: www.champspikes.com, 1-800-OK-CHAMP.