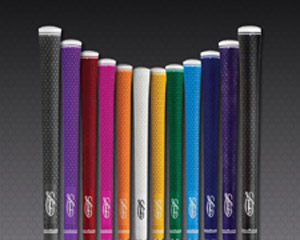 SAN DIEGO (March 12, 2012) –  During college golf season, athletes can average more swings than even the most avid professional, making them ideal candidates for regular regripping. Throughout the past decade, Lamkin Grips' College Support Program has donated more than 100,000 golf grips to Division I and Division II golf teams to help them offset expenses.  To celebrate this milestone, Lamkin is expanding its program to include a range of grip colors that enable teams to exhibit their school spirit all season long.
Lamkin's 2012 color spectrum is so extensive that it covers nearly 90 percent of today's 40 top-ranked U.S. college men's and women's team colors.*  The company already is renowned for offering the industry's widest selection of styles, sizes, patterns and materials, ensuring that all golfers can be matched to their ideal grip.
"More than ever, our industry needs to seed those groups who influence the next generation of golfers," says Bob Lamkin, the company's CEO.  "Lamkin's golf heritage dates back three generations, and we want to see this game thrive for many generations into the future.  Our College Support Program is just one way we hope to further fuel these young athletes' passion for the game."
As long-time supporters of collegiate golf programs, Lamkin also has sponsored the San Diego Inter-Collegiate Championship and the Lamkin Grip Cal Poly Invitational Women's Golf Tournament, among others.  As the head coach of the San Diego State Men's Golf Team, Ryan Donovan is very familiar with the company's ongoing support of these programs.  "We are thrilled to partner directly with Lamkin Grips throughout the golf season," Donovan said. "For our players, regular regripping is crucial and Lamkin has helped college coaches and players ensure we're using the best possible grips."
Coaches from Division I or II men or women's golf teams who are interested in receiving new grips can select from any of Lamkin's current grips, then send their request directly to griprequest@lamkingrips.com.
For more information about Lamkin Grips or its College Support Program, visit www.LamkinGrips.com.