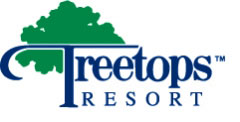 GAYLORD, MI – With Treetops Resort experiencing an amazing business turnaround, management is upping the ante by bringing back Jason Guss, a rising star PGA golf instructor, to team with the renowned Rick Smith in creating a new teaching academy.
Smith, the resort's managing partner, and one of the nation's top golf coaches, said the Rick Smith Jason Guss Golf Academy will offer the newest technology to help golfers improve their game.
"We are going to reinvent the academy using the new technology, there is so much good stuff out there, " he said. "It will be fantastic to be able to bring in new programs and work with Jason again in bringing the best to our clients."
Guss, 35, returns to Treetops after a one-year stint at nearby Otsego Club where he launched that facility's first golf school. Previously, he spent 11 years working for Smith at Treetops and Smith's school at the Tiburon Golf Club in Naples, Fla.
"Of all the guys I have taught with over the years, Jason is one of the brightest young stars I have worked with," Smith said. "He is very creative and will bring some great new ideas to the academy"
Smith said in reorganizing the Treetops school he will be much more involved than he has been in recent years since he formed an investment group that bought the resort following the death of its founder and Smith patron, Harry Melling.
"With my management role I was focusing on trying to help the business, I was meeting with investors and staff and didn't have time to teach," he said. "Now I will be back teaching and I'm very excited about that."
Guss said while he appreciated the opportunity extended to him at the Otsego Club, returning to Treetops and sharing top billing with Smith is career move he could not pass up.
Guss said his apprenticeship with Smith, and Smith's long time assistant, Henry Young, was invaluable.
"My years working with Rick and Henry gave me the opportunity to work with some of the greatest players in the game, and learn about the golf swing from the best in the game," he said. "It was truly an opportunity of a lifetime."
Guss often assisted Smith, while Smith coached such elite players as PGA Tour stars Phil Mickelson, Rocco Mediate, and Lee Janzen, to name a few. In addition, Guss also taught at the Brett LeBrocque golf academy in Melbourne, Australia, one of the best golf schools in that country.
Smith said Young will continue playing a key role in the new academy.
"Henry and I have been together for 26 years and he has kept the academy going for me and he will still be a valuable asset," Smith said.
Smith said the new academy will highlight Treetops' family atmosphere by offering programs for parents and their children, such as mother and daughter, or father and son lessons. A program for juniors and for women will also be on the schedule.
Guss has been recognized as one of the best young golf teachers by Golf Digest magazine. The magazine listed him among its Best Young Teachers in 2010. He was also twice selected by Golf Digest as one of the Top 20 teachers in America under the age of 40 — the only instructor in Michigan to earn that prestigious recognition.
He was one of three instructors selected by the magazine to create a set of hour-long instructional DVD's called The Golf Digest Clinic.
Guss has been a keynote speaker for the Michigan PGA Section, sharing his own insights into the golf swing. He filmed four Golf Channel Academy instructional pieces, and appeared as a guest on Michigan Golfer Live.
Treetops Resort, located in the heart of America's Summer Golf Mecca offers 81 holes of championship golf. Three of the courses were designed by Smith and the others by ionic architects, Robert Trent Jones Sr. and Tom Fazio.
In addition to the 81 holes of championship golf, Treetops, as a full-service, four-season resort destination offers 23 downhill ski runs, tubing and terrain-park, and a snowboard half-pipe.
Lodging at Treetops consists of 240 guest rooms, including standard and deluxe rooms, suites and hospitality rooms and two and three bedroom condominiums. A 10,000 square-foot convention center is available for conferences along with a variety of other meeting facilities. Rounding out the amenities are three restaurants, the Treetops Spa, a child development center, retail shops offering a variety of clothing and equipment, indoor and outdoor pools.
For more information please visit www.treetops.com or call 1.888.TREETOPS (873.3867).