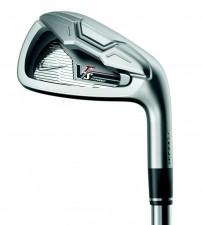 New VR_S Forged Irons offer premium feel and premium distance-
BEAVERTON, Ore. (February 2, 2012) – Nike Golf is introducing the new VR_S Forged irons, its most technically advanced game improvement irons that combine high-speed performance with meticulous craftsmanship for maximized distance and premium feel. Incorporating the finest materials, advanced technology and a face-welded forged face and body, the VR_S Forged irons offer ultimate speed and precision.
Tiger Woods was the first Nike athlete to put a new Nike VR_S Forged iron in competitive play during the 2011 Presidents Cup. He used a VR_S Forged 3-iron that is bent to perform like a 2-iron. Depending on course conditions, Woods will sometimes swap the VR_S Forged 3-iron with his Nike VR Pro Limited Edition 5-wood.
"These premium forged irons are the epitome of both performance and beauty.  They meet the expectations of a blade player's discerning eye, yet they are hot and fast and will deliver on distance," said Tom Stites, Director of Club Creation for Nike Golf. They are so very versatile that they will play very well for both the golfer moving out of forged blades who wants to maintain feel and the golfer looking for forgiving distance.  Hot, fast, forged and forgiving; these irons really have it all."
The technologies featured in Nike's hottest forged irons include:
Japanese Precision Forged SAE 8655 Face – allows for a 2.5mm constant thickness face which creates extreme iron COR for breakout distance and precision performance.
High Frequency Nike X3X Grooves – Nike's X3X grooves, there are more grooves that are closer together and deeper on the clubface, which provides more control and consistency in all conditions off of the clubface, while conforming to the USGA and R&A rules.
Nike Powerbow Technology – by positioning the weight off the face with a deep pocket construction, the Nike Powerbow technology produces a faster, higher launch for maximum carry, straighter ball flight and steeper descent to hold greens.
VR_S Forged irons
Availability:  February 3, 2012
Specifications:  4-AW, Nippon 950HT Steel: S, R; RH
MSRP: $1199.99 STEEL (MAP: $999.99)