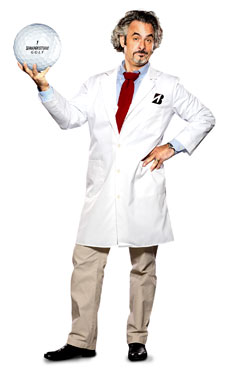 Golf Television Personality and Acclaimed Author David Feherty Will Star in 2012 Bridgestone Golf Ad Campaign
Covington, Ga. — Bridgestone Golf, the #1 Ball-Fitter in Golf, announced today that it has forged a relationship withmulti-talented golf journalist and humorist David Feherty to serve as a brand spokesperson over the next two years.
As part of the deal, Feherty will be featured in the upcoming Bridgestone Golf 2012 ad campaign along with Fred Couples, Matt Kuchar, Davis Love III, Brandt Snedeker and Lee Trevino.  In addition to his role in the lineup of new commercials, Feherty will also star in a series of web-based videos aimed at educating golfers on golf ball technology and the importance of choosing a golf ball suited to one's swing characteristics.
Coming off of an incredibly successful maiden season of his self-titled talk show "Feherty" on The Golf Channel, the former European PGA TOUR Star and current CBS golf commentator's popularity is at an all-time high, and Bridgestone is excited about what Feherty lends to its brand mission in 2012.
With a smile, Dan Murphy, Vice President of Marketing – Bridgestone Golf, Inc., said, "Truthfully, Feherty wasn't our first choice, but with Justin Timberlake already taken our options were pretty limited.  I guess instead of bringing sexy back, we'll have to settle for bringing funny back." Murphy added, "In all seriousness, David's knowledge of golf equipment and his ability to educate while entertaining make him a great fit for what we're all about at Bridgestone."
Having fit over 150,000 golfers through its Bridgestone Challenge ball-fitting program, Bridgestone Golf possesses a robust bank of amateur golf swing data.  After more than four years of the ball-fitting program, Bridgestone still finds that nearly 8 out of every 10 players are playing a golf ball that does not fit their game.  So Bridgestone plans to put more marketing muscle than ever before into golf ball technology education in 2012.   In addition to education efforts using Feherty, Bridgestone will increase the number of ball-fittings it conducts this year and will look to expand upon its popular B-FIT web-based expert chat service that was launched two years ago.
Feherty said, "Not a lot of people know this, but I am a huge ball expert. In fact,over the years I played for a living, my balls took a lot of punishment in the form of tops, shanks, cuts, scrapes, and I've even lost a couple. As it turns out, I was playing with balls that should have been hit by someone else in the first place! Well, you live and learn. I think I've been driving on the wrong tires too. It's safe to say that Bridgestone is making my world better."
Visit www.bridgestonegolf.com to learn more about Bridgestone Golf's 2012 plans.