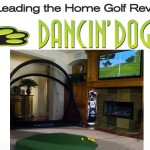 Signature Hawaiian Hotspot One of 11 Courses Included in Base Package
(TRAVERSE CITY, MI) — Dancin' Dogg Golf — maker of the OptiShot Infrared Simulator, the ultimate in-home virtual golf system — has added West Maui Plantation, a stunningly accurate replication of Maui's most high-profile course, to its library of core courses that are included with the base package.
Available now at leading retailers nationwide and via free, automatic download for current OptiShot users, West Maui Plantation contains four holes of more than 500 yards and is considered one of the game's most challenging layouts. Its breathtaking design incorporates soaring mountains, expansive ocean vistas and scenic pineapple plantations that combine to create a truly unforgettable experience.
"Sitting atop the 17th tee, looking down at the green with the water behind it, you can almost feel the Hawaiian breeze," says Brandon Theophilus, CEO of Dancin' Dogg Golf. "Our in-house design and development team did a remarkable job creating a life-like experience that allows players to truly experience this course without jetting across the Pacific."
West Maui Plantation is one of 11 world-class layouts in the core course library, alongside Torrey Black, Long Island Black, Canadian Club and The Golf Club Scottsdale.
OptiShot (MSRP: $399.95) connects with Windows computers via a plug-and-play interface and requires only 8-½ feet of swing space. With their own clubs, up to four players per round can compete by hitting real balls, foam balls (provided) or no ball at all. Infrared sensors on a durable swing pad precisely record club-head speed, face angle, swing path, distance, tempo, face contact and ball flight. In addition to Core courses that come with the system, OptiShot users can practice and compete on the par-3 option or a realistic driving range.
In addition to the library of core courses, users can purchase a wide range of premium layouts at www.dancindogg.com — including Atlanta Highlands, Capitol Club, Cogs Corner, Jones Lake, Monterey Classic, Old Scot, Ponte Vedra, Royal Melbourne, Royal St. Marks and Whispering Dunes – for $49.95 each.
Dancin' Dogg Golf was recently ranked one of America's fast-growing entrepreneurial companies by Inc. Magazine, placing No. 358 on the prestigious Inc. 500 list for 2011. This honor was based on the company's 951.2% revenue growth from 2007 through 2010. That increase was fueled by exceptional demand for OptiShot, a fun, accurate, affordable and easy-to-use golf simulator that allows players to improve their games from the comfort of home.