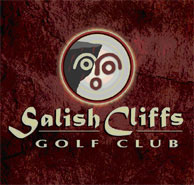 Salish Cliffs Golf Club (Shelton, Wash.) Honored By GOLF Magazine, Golfweek
Layout Named One of GOLF's Best New Courses You Can Play 2011, Golfweek's Highest-Ranking Casino Course to Open in 2011
(SHELTON, WA) – Brand-new Salish Cliffs Golf Club at Little Creek Casino Resort – located a short drive from Olympia and Seattle – has added to its already impressive resume with inclusion in GOLF Magazine's "Best New Courses You Can Play 2011" and as the highest-ranking casino course (No. 11 overall) to open this year in "Golfweek's Best: Casino Courses 2011."
"We are honored that these two highly respected publications have chosen Salish Cliffs to be among the best courses in their respective rankings," said Head Professional David Kass, PGA. "We feel Salish Cliffs is a special course, and we hope golfers around North America continue to travel here and find out for themselves."
The GOLF Magazine article is featured in the January 2012 issue, while the Golfweek ranking is in the current December 9-16 issue.
Salish Cliffs – a Gene Bates design that just opened in September – was lauded by GOLF Magazine Travel Editor Joe Passov, who spotlighted the magazine's "Best New Courses You Can Play 2011" in a variety of categories from the United States and around the world.
"After delays dating to 2008, this Gene Bates design for the Squaxin Island Indian Tribe's Little Creek Casino Resort finally opened this past summer," wrote Passov of Salish Cliffs. "It was worth the wait…Salish Cliffs unfolds over 400 acres, without a home or road to scar the landscape. Generous fairways allow all to smack the driver with abandon, but sprawling (if shallow) bunkers, thick native grasses and towering firs punish careless shots.
"More than 600 feet of elevation changes call to mind an amusement park ride," Passov continues, "but you'll find no gimmicks here. There's just one fun hole after the next, beginning and ending with gambler options on reachable par 5s."
In Golfweek, Salish Cliffs was ranked as the nation's top casino course to open in 2011, and No. 11 overall, in the magazine's "Best: Casino Courses 2011" ranking of the Top-50 casino layouts, released last week.
Salish Cliffs was chosen by Golfweek's nationwide team of course raters. Not only was Salish Cliffs the top-ranked casino layout to open in 2011, but it was one of just two Pacific Northwest casino courses on the list.
The GOLF Magazine and Golfweek honors come on the heels of Salish Cliffs being ranked No. 8 in "Golfweek's Best 2011: Best New Courses" list, which was released in October. On that list, Salish Cliffs is the highest-ranked course that opened for play in 2011. Salish Cliffs has also received praise for its reasonable rates and was included on Forbes.com's list of the "12 Best Value Courses in the U.S."
The par-72, 7,269-yard championship course provides an intimate setting with 16 of 18 holes encircled by lush forestry. The course is friendly to players of all levels thanks to five sets of tees and offers stunning scenery with 360-degree views of Kamilche Valley. The black "tips" received a rating/slope of 75.4/137 from the USGA while the 5,313-yard forward tees come in with a 70.7 rating and 125 slope.
Off-season public rates through Dec. 31 are $64 (Monday-Thursday) and $69 (Friday-Sunday) for 18 holes and $35 and $40, respectively, for nine, including green fees, cart and range balls before your round (but not applicable tax). MVP Player's Card Holders will pay $59 (Monday-Thursday) and $64 (Friday-Sunday). Military and Seniors (50+) will receive an additional $5 off the applicable rate. At 2 p.m., $40 will get you as much golf as you can play (seven days a week).
Tee times can be booked with a major credit card up to 10 days in advance at www.salish-cliffs.com. Advanced tee-time booking up to 60 days in advance is available for those with confirmed Little Creek Casino Resort hotel reservations by calling the golf shop at 360.462.3673.