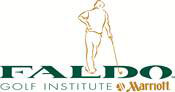 ORLANDO, Fla. – November 14, 2011…The acclaimed Faldo Golf Institute (FGI) by Marriott, one of the nation's leading golf schools created by legendary Six-Time Major Champion Sir Nick Faldo, today announced that TrackMan Pro has been installed at the Orlando, Fla., facility, located at Marriott's Grande Vista resort.
Using Doppler radar – the same technology employed by the military for tracking missiles – TrackMan analyzes the golf swing and entire flight of the ball from impact to landing, displaying the ball's 3D trajectory in real time, while delivering 22 swing and ball flight parameters/data points on every shot.
TrackMan Pro, which features TrackMan Performance Studio software, will be incorporated into FGI's golf programming, as the team of Faldo certified instructors will utilize the system for video and numerical swing analysis.  All Faldo certified instructors will be fully trained on TrackMan capabilities, including instruction, fitting, and skill-assessment best practices, to ensure the new technology is properly integrated into the curriculum, as TrackMan's two software packages are considered the industry standard for precision, stability and ease of use.
"We are thrilled to install the TrackMan Pro system at the Orlando facility, further enhancing what is already an incredible golf instructional experience," said Bill Nault, Vice President, Marriott Golf.  "Our team of certified instructors and students of all skill levels will benefit from the most sophisticated swing analysis technology in the marketplace."
TrackMan Pro is the choice of the PGA Tour, USGA and R&A for swing and ball flight analysis.  A staple on professional tours, with leading club fitters, manufacturers, retailers, universities, academies, instructors, players and broadcast TV, TrackMan Pro is considered the industry standard for accuracy, flexibility, reliability and ease of use.
Recognized by Golf Digest as one of America's 100 Best Clubfitters, the renowned Clubfitter's WorkshopTM is offered so each student is properly fit with equipment that will help them reach their full potential.  Randy Doucette, hand-picked by Sir Nick Faldo himself, has served as the Master Clubfitter at the Orlando, Fla., location since its inception, and has worked closely with many Tour players and celebrities to ensure they are equipped with a properly fit set of clubs when teeing it up.  The addition of TrackMan Pro adds a new dynamic to the club fitting experience.
"Trackman is the tool the pros use and we are proud to provide it exclusively to our students at the Faldo Golf Institute," said Sir Nick.  "It takes the guess work out of analyzing adjustments for quick positive results."
Faldo Golf Institute by Marriott combines the teaching philosophy of the legendary Sir Nick Faldo with the world class service and hospitality of Marriott International to provide a full-service golf school experience perfectly suited for golfers of all ages and abilities.  From low-handicap elite golfers seeking a competitive advantage, to newcomers to the game seeking an introductory program that is matched to their needs, the Faldo Golf Institute offers distinct learning programs for everyone.