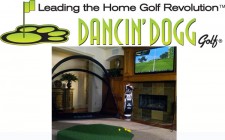 Iconic Australian Track Further Enhances Premium Course Library
(TRAVERSE CITY, MI) — Dancin' Dogg Golf — maker of the OptiShot Infrared Simulator, the ultimate in-home virtual golf system — has expanded its premium course library to include Melbourne Golf Club, a hyper-accurate replication of an Alister Mackenzie design that consistently ranks as Australia's No. 1 layout.
A two-time host of the biennial competition between American and International squads, Melbourne Golf Club is well-known for its reachable par 5s and spectacular yet well-guarded par 3 holes. With signature large, undulating greens it has repeatedly been rated among the "Top 100 Courses in the World" (GOLF Magazine) and "Top 100 Best Golf Courses Outside the United States" (Golf Digest).
It's thanks to our in-house design and development teams that we're able to deliver this kind of truly unparalleled experience in time for the upcoming competition," says Brandon Theophilus, CEO of Dancin' Dogg Golf. "This means that OptiShot users can test their skills on the same pressure shots their countrymen are about to face Down Under."
Available by download at www.dancindogg.com, Melbourne Golf Club ($49.95) is joined in the OptiShot premium library by replicas of other world-famous courses and major championship host sites, including Atlanta Highlands, Capitol Club, Cogs Corner, Jones Lake, Monterey Classic, Old Scot, Ponte Vedra, Royal St. Marks and Whispering Dunes.
OptiShot (MSRP: $399.95) connects with Windows computers via a plug-and-play interface and requires only 8-½ feet of swing space. With their own clubs, up to four players per round can compete by hitting real balls, foam balls (provided) or no ball at all. Infrared sensors on a durable swing pad precisely record club-head speed, face angle, swing path, distance, tempo, face contact and ball flight. In addition to Core courses that come with the system, OptiShot users can practice and compete on the par-3 option or a realistic driving range.
Dancin' Dogg Golf was recently ranked one of America's fast-growing entrepreneurial companies by Inc. Magazine, placing No. 358 on the prestigious Inc. 500 list for 2011. This honor was based on the company's 951.2% revenue growth from 2007 through 2010. That increase was fueled by exceptional demand for OptiShot, a fun, accurate, affordable and easy-to-use golf simulator that allows players to improve their games from the comfort of home.
About Dancin' Dogg Golf
Based in Traverse City, MI, Dancin' Dogg Golf was founded in 2005 and specializes in developing innovative technologies. The company was recently named to the prestigious Inc. 500 list as one of America's fastest-growing entrepreneurial companies. Other distinctions include winning SoreGolf's 2010 Research & Development Award. Dancin' Dogg's product range is highlighted by the OptiShot Infrared Golf Simulator and its expanding library of world class courses that golfers play anytime, anywhere. Durable and built to last, OptiShot comes with a 180-day warranty and has been heralded by leading authorities nationwide, including GOLF Magazine, Golfweek, Sports Illustrated, Wired and Golf Channel.
For more information: www.dancindogg.com, www.facebook.com/dancindogg, 866.941.3644.