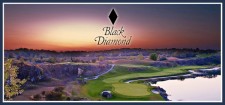 Acclaimed Fazio Layout Rated Best Residential Course in Florida
(LECANTO, Fla.) – The Quarry at Black Diamond Ranch – the famed Tom Fazio design in Citrus County, Fla. – is No. 15 on Golfweek's annual list of the "Best Residential Courses" in America.
The magazine's latest issue places Black Diamond Ranch in the upper echelon of U.S. golf communities and makes The Quarry the highest-ranked residential course in golf-rich Florida, home to more than 1200 courses. The Quarry is hewn through the steep cliffs and lakes of two retired limestone quarries, creating one of the most sought after golf experiences in the country.
The residential rankings are derived directly from Golfweek's annual list of America's Best Courses, published since 1997. More than 350 raters throughout the country evaluate courses on the basis of 10 criteria. Rankings are calculated using a statistically rigorous process.
"Golfweek is one of the game's foremost authorities and we are honored to be included on its list," says David McDonald, president of Escalante Golf, owner and operator of Black Diamond Ranch. "The ranking is a testament to The Quarry's best-in-class service, unparalleled layout and its relationship to the overall community plan."
Escalante Golf's mission is to create a progressive, conscientious master plan to help guide the future of Black Diamond Ranch's real estate and golf programs. The company purchased Black Diamond Ranch in March 2011 from visionary founder Stan Olsen, who created the golf and country club in 1987.
For more information on Black Diamond: www.blackdiamondranch.com, (817) 386-9721.