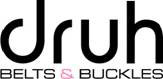 Just in Time for Festive Season!
November 2011: Druh Belts & Buckles has upgraded its website (www.druhbeltsandbuckles.com) to make it much easier for its visitors to create their own personal Druh Belt as well as to give them a more engaging and interesting online experience.
Druh's exclusive range of stylish belts comes in a huge variety of colours, in various leathers, snakeskin and embossed styles from crocodile to ostrich, with a wide choice of buckles from the traditional to the downright glitzy ensuring abundant alternatives when designing a Druh Belt. And yet to build your very own belt, all you need to do now is choose your preferred style of leather, pick a colour, settle on a 'db' buckle and you're there! (http://www.druhbeltsandbuckles.com/belts).
For those stuck for inspiration, you can simply click on one of the most popular styles of Druh Belts as listed or if you'd like to be seen in the same belt as worn by one of your favourite Druh brand ambassadors, such as Lee Westwood or Sophie Horn, it's just one click away.
The redesign comes just in time for the festive season when golfers may be looking for an eye-catching accessory for their Christmas party outfit or searching for the perfect present for a golfing mate. Already Druh Belts & Buckles are proving so popular, the chances are we may even see Santa wearing a diamante 'db' buckle with a bright red belt this Christmas!
Alongside simplifying the whole shopping process, Druhbeltsandbuckles.com has also developed some interesting and exclusive blog content (http://blog.druhbeltsandbuckles.com/) that is regularly updated by Druh founder, Simon Hurd, as he jet sets around the world attending pro golf tournaments, corporate events and charity golf days sponsored by Druh.
As a former touring professional on the European and Asian Tours, Simon is able to gain access-all-areas at these events, uncover all the behind-the-scenes action and interview some of the stars of world golf and celebrities that love to play golf.
For example, he recently attended the Marie Keating Celebrity Golf Classic, hosted by Ronan Keating in memory of his mother, at the famous K Club in Ireland. Here he challenged celebrity guest, Matt Le Tissier, to play 'keepy-uppy' with a four iron and a golf ball to ascertain if he is as good with a golf ball as he was with a football. You can judge for yourself online at the druhbeltsandbuckles blog http://blog.druhbeltsandbuckles.com/2011/9/12/matt-le-tissier-shows-us-his-skills
In addition to Westwood and Horn, Druh Belts & Buckles are favoured by Sweden's Robert Karlsson, Thai superhero Thongchai Jaidee, Denmark's Thomas Bjorn and Irishman Paul McGinley whilst in the ladies professional game, flamboyant American Christina Kim, Korea's Jimin Kang, Swede Sophie Gustafson and Scotland's Catriona Matthew all wear Druh.
All over the world, Druh Belts & Buckles are the number one belt on tour and are recognised as the 'Choice of Champions'.
To keep up to date on Druh Belts & Buckles, you can follow Simon on Twitter (@druhbelts) and Druh Belts & Buckles on Facebook.