GOLF'S FOUR MAJOR CHAMPIONS PREPARE FOR A DUEL AT THE 29TH PGA GRAND SLAM OF GOLF IN BERMUDA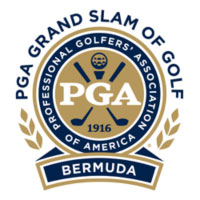 U.S. Open Champion Rory McIlroy, Masters Champion Charl Schwartzel, Open Champion Darren Clarke and PGA Champion Keegan Bradley compete Oct. 17-19 in Bermuda at Port Royal Golf Course; Extensive Television Coverage on TNT
PALM BEACH GARDENS, Fla. — Masters Champion Charl Schwartzel, U.S. Open Champion Rory McIlroy, Open Champion Darren Clarke and PGA Champion Keegan Bradley will form the year's elite foursome in the 29th PGA Grand Slam of Golf, Oct. 17-19, at Port Royal Golf Course in Bermuda. The season-ending showcase event, which boasts the most difficult qualification requirement in the game – a major championship victory – will be televised by TNT to a worldwide audience. Coverage begins Tuesday, Oct. 18, from 4 p.m. – 7 p.m. ET/PT and Wednesday, Oct. 19, from 4 p.m. – 8 p.m. ET/PT.
Port Royal Golf Course joins the Fairmont Southampton as the official hotel site for the PGA Grand Slam of Golf in Bermuda. The 6,845-yard, par-71 Port Royal is a public course that opened for play in 1970.
The PGA Grand Slam of Golf features a $1.35 million purse, with the winner receiving $600,000; second place $300,000; third place $250,000 and fourth place $200,000. TNT's prime-time broadcast of the event reaches a worldwide audience of nearly 100 million U.S. homes and international viewers in more than 100 countries.
Hosted by the Bermuda Department of Tourism, Port Royal Golf Course, and the Fairmont Southampton Hotel, The PGA Grand Slam of Golf was established in 1979 and has grown from an 18-hole, single-day event to a 36-hole annual showdown that matches professional golf's best against each other. Ernie Els captured the 2010 PGA Grand Slam of Golf title at Port Royal.
Past PGA Grand Slam of Golf Champions include Tiger Woods, Phil Mickelson, Jim Furyk, Els, Tom Lehman, Ben Crenshaw, Greg Norman and Nick Price.
For more information on the 29th PGA Grand Slam of Golf, please visit www.pga.com.
About The PGA of America
Celebrating its 95th year, The PGA of America has maintained a twofold mission of its founders: to establish and elevate the standards of the profession and to grow interest and participation in the game of golf.
By establishing and elevating the standards of the golf profession through world-class education, career services, marketing and research programs, The PGA enables its professionals to maximize their performance in their respective career paths and showcases them as experts in the game and in a multi-billion dollar golf industry.
By creating and delivering dramatic world-class championships and exciting and enjoyable promotions that are viewed as the best of their class in the golf industry, The PGA of America elevates the public's interest in the game, the desire to play more golf, and ensures accessibility to the game for everyone, everywhere. The PGA of America brand represents the very best in golf.
About Bermuda
Bermuda, just under two hours from East Coast gateway cities, stretches for 21 miles along turquoise waters and is surrounded by a 200-square-mile coral reef plateau. The island has more golf courses per square mile than anywhere in the world and the pleasant climate allows for a round of play any month of the year, no matter the season. Each of its breathtaking courses features a blend of turquoise ocean views, rolling hills and humbling challenges. For more information, please visit www.bermudatourism.com or call 1-800-BERMUDA.