NAPIER, New Zealand (14 September 2011) ˜ In the space of three weeks this summer (winter Down Under), Cape Kidnappers Golf Course was honored as the most environmentally sensitive golf course in New Zealand, and by GOLF Magazine as the 33rd ranked golf course in the world. These two plaudits neatly sum up two primary goals of this North Island retreat: to offer discriminating golfers the finest golf experience in the most beautiful, organic setting possible.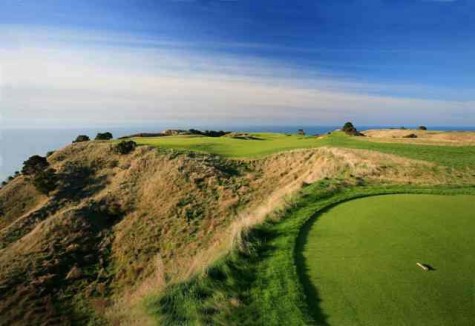 "I think the most important conclusion to be drawn from both of these awards has very little to do with Cape Kidnappers in particular,‰ said Director of Golf Ryan Brandeburg. "That a single golf course can be so highly ranked, and also be so environmentally responsible, shows that quality and sustainability go together. They don't have to be mutually exclusive ˜ which is something that professionals inside the golf business have long understood, but people outside of golf are beginning to realize more fully every day.
"We congratulate our course superintendent at Cape Kidnappers, Steve Marsden, for both awards. I suppose in all our minds, they go together.‰
The PGG Wrightson Turf New Zealand Golf Course Superintendents Association Environment Award, presented for the first time in 2011, recognizes the country's leading course in terms of its environmental management practices. Marsden and Cape Kidnappers GC were formally presented the plaudit during this year's New Zealand Turf Conference and Trade Show in Hamilton.
"It is staggering to hear of the release of kiwi and pateke, the rare native brown teal, on the golf course,‰ said one judge, Bill Walmsley of PGG Wrightson. "The initiatives taken by Cape Kidnappers Golf Course to release these iconic species was made possible by the collaboration of owner Julian Robertson with adjoining land owners in constructing a predator-proof fence and establishing what is New Zealand's largest mainland Sanctuary for some of New Zealand's most endangered native wildlife.‰
[Listen here to a podcast with Steve Marsden, on the subject of environmental stewardship at Cape Kidnappers.]
Cape Kidnappers is an actual landform unto itself, a triangular headland whose white cliffs jut 8 kilometers out into the Pacific from the North Island community of Napier. The golf course maintenance staff works alongside Sanctuary staff to ensure the on-course environment complements work carried out across the wider property. This means, among other things, carrying out pest control, monitoring water quality in old farm dams, maintaining the integrity of that predator-proof fence (which is 7 miles long), restoring habitat for native species, and removing invasive species like blackberry, pink ragwort, boxthorn. A large part of the 5000-acre property not used for golf ˜ meaning the vast majority ˜ is being returned to native habitat.
The environmental credentials at Cape Kidnappers GC are rivaled by those of its sister property, Kauri Cliffs Golf Club, in the sub-tropical Bay of Islands on the North Island. Here is another sprawling property, 2630 hectares, where wildlife sanctuaries predominate, while existing side by side with Top 100 golf and 5-star lodging.
"The reality is, there is a great deal of knowledge-sharing, not just between my staffers at Kidnappers and the staff at Kauri Cliffs, but between all course superintendents in New Zealand,‰ said Marsden, who directs a staff of 16. "The golf course has created its own environmental charter that guides our maintenance policies. To verify that our environmental policy is up to scratch, we became the first golf course in New Zealand to gain certification with Audubon International as a designated Audubon Cooperative Sanctuary.
"All the programs and certifications we undertake at Cape Kidnappers are voluntary. Our waste is all recycled; wood from on-site is split for firewood and used for heating where possible; the pesticide filling and wash-down pad is fully contained and the waste is taken away for processing. We're proud to receive awards like this and share what we've learned. Part of the Audubon certification is an obligation to communicate the work we've done through course signage, local newspapers and interactive school visits.‰
Cape Kidnappers and Kauri Cliffs are part of a family of celebrated golf and resort properties owned and operated by American hedge fund legend Julian Robertson, who first visited New Zealand in 1979, and has since adopted it as a second home.
Robertson opened Kauri Cliffs (www.kauricliffs.com) in 1999. This David Harman design today ranks among the World's Top 100 courses, according to both Golf Digest and GOLF magazines. Kauri Cliffs was soon joined on its sprawling 2630-hectare parcel by The Lodge at Kauri Cliffs, whose veranda-wrapped plantation house and adjoining guest cottages were named, in July 2011, the No. 1 Lodge/Resort in Australia, New Zealand, and the South Pacific as part of Travel+Leisure magazine's 2011 World's Best Awards readers' survey. It ranks as the 3rd Best Hotel in the world by Condé Nast Traveller, according to the magazine's 2010 Readers' Choice Awards.
In 2004, course architect Tom Doak unveiled Cape Kidnappers GC (www.capekidnappers.com), which has come to be ranked even higher. The Farm at Cape Kidnappers opened in 2006; it was named to Travel+Leisure's "World's Top 50 Hotels‰ in 2010. Last summer the Robertson family oversaw grand opening of Matakauri Lodge in the ski and adventure sports Mecca of Queenstown, in New Zealand's Southern Alps. Matakauri would subsequently make Condé Nast Traveller's "2011 Hot List‰.
"We honestly believe that Cape Kidnappers and Kauri Cliffs are offering more than the two highest-ranked resort courses in Asia-Pacific,‰ said Brandeburg. "The natural environments Steve Marsden and all of our staff work so hard to foster are integral to the equation. They are as important, in our view, as the luxury accommodations, which are obviously admired but also adhere to the same high environmental standards.
"It's our view that New Zealand itself represents, to visitors, exactly this sort of natural experience. I don't want to get all post-modern, but it's part of the New Zealand Œbrand'. And so we feel our efforts are entirely consistent with, if only a small part of, the country's commitment to placing beauty and sustainability directly beside luxury.‰
In this vein, Kauri Cliffs and Cape Kidnappers GC have issued their first-ever golf package in 2011, arguably the most scenic, luxurious and pricey golf package currently on offer in Asia-Pacific. The Ultimate New Zealand Golf Package includes nine nights across three lodges, four courses, and the country's two islands. Per-person pricing ranges from $8,197 NZD in the low season (May through August) to $12,742 NZD in the high season, which runs November through March.