Luxury Hotel, Beach Club, Vacation Villas Augment Acclaimed Black Pearl Golf Course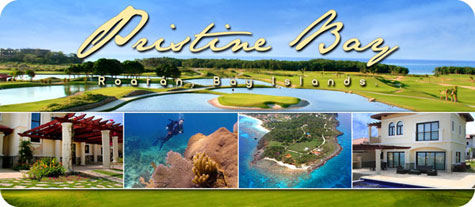 (ROATAN, Honduras) – Pristine Bay Resort — one of the western Caribbean's most-anticipated resort communities — announces its five-star hotel, beach club, vacation villas and luxury real estate offerings are nearing the completion of Phase I construction.
Scheduled for a "soft opening" to start 2012, Pristine Bay is located on the idyllic tropical island of Roatan, 40 miles off the coast of Honduras. The luxury resort hotel will initially have 30 standard guest rooms, 11 two-bedroom villas, five-star restaurant "Las Pergolas," beachfront infinity pools and palapa bar. A full-service 6,000-square-foot spa, remaining guest rooms and villas will follow in Phase II of the project to commence later this year.
Currently, 10 two-bedroom luxury villas are available for short- and long-term rentals to those seeking to play The Black Pearl – Roatan's first golf course — designed by Perry and Pete Dye. The villas feature comfortable, well-appointed interiors with expansive outdoor living space and custom-designed pools.
"Now that The Black Pearl has put us on the map with golfers, our upcoming resort hotel, beach club and real estate offerings will solidify our rank in the upper echelon of destination locales," says Mario Toriello, Vice President of Sales and Marketing. "Roatan is one of the last 'undiscovered' spots on the planet, and Pristine Bay is poised to welcome those seeking an escape to paradise."
Also scheduled to debut in early 2012 is Pristine Bay's 25,000-square-foot Beach Club. Open to real estate owners and private members of the resort, it will showcase the largest infinity edge pool in Central America (18,000 square feet), three hard courts for tennis, private beach, international restaurant, pool bar and grill, croquet field, movie theatre, pro shop and fully-equipped locker rooms.
Pristine Bay's real estate continues to sell at a fast clip. Its Royal View Villa Suites, introduced at the beginning of 2011, are 90 percent sold. Construction has started on all 34 of its Pearl Court Villas, and only a handful of residential lots remain available from Phase I of the project.
Additional information about golf membership, real estate options and more can be gleaned by visiting www.pristinebayresort.com, emailing info@pristinebayresort.com or golf@pristinebayresort.com, or calling +504 3310 1900.
About Pristine Bay Resort
Located on the lush, tropical island of Roatan, 35 miles off the coast of Honduras, Pristine Bay Resort is situated on a 400-plus acre site adjacent to the Caribbean Sea. The azure waters off the coast of the island, enhanced by the world's second largest barrier reef, provide a stunning backdrop and one of the truly unique settings for golf in Central America.
Dye Designs, pioneers of the use of Paspalum turf for tropics-based projects, is grassing The Black Pearl with this salt-water tolerant strand known for its environmental compatibility, ease of irrigation and maintenance, and translucent green hue. Its appearance — juxtaposed against the turquoise waters offshore – inspired The Black Pearl's tagline: "The Best Greens and the Best Blues."
Pristine Bay Resort features a wide variety of residential products including: bay view and golf course condominiums, two-, three-, and four-bedroom villa units and one-quarter-acre custom home lots, many with unobstructed views of the ocean. Villas start at $600,000 and range up to $1 million; lots start at $230,000 and range up to $700,000; and condominiums from $348,000 to $700,000. A 155-slip full-service marina located near The Black Pearl clubhouse will provide deep-water access for a wide variety of sea-going vessels.
Residents and guests will have access to the ocean-front Bay Village at Pristine Bay with boutiques, art galleries, restaurants, cafes and other entertainment options. The 120-room, five-star Resort and Spa at Pristine Bay, to be managed by the Lancaster Hotel Group, is scheduled to open in early 2012.
Getting There: Roatan International Airport (RTB) is served by nine weekly, non-stop flights from the United States (Houston, Atlanta, Miami and Newark) on Continental, Delta and TACA. Flights to the island through the Honduran cities of Tegucigalpa and San Pedro Sula and San Salvador, El Salvador are also available.